Artist Helping Artists: Murakami in Miami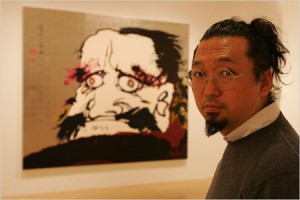 For those who may not know, the biggest art fair in North America is Miami Basel. This mega fair hosts 200 galleries, who set up shop in a convention style showroom for a small fee of $40,000. FUCK THAT! Because of this crazy fee, and because almost 1000 galleries worldwide fight for a spot in Basel, "satellite" fairs are popping up everywhere, 22 this year to be exact. Satellite fairs, like Art Miami, Bridge, Scope, Pulse, Red Dot, Aqua, Fountain and Geisai, strategically place themselves in Miami during Basel, offering affordable rates to artists and galleries who didn't make the Basel cut. How much? Between $0 and $40,000, which brings us to the whole "artist helping artists" bit.
Japanese pop artist Takashi Murakami came out of pocket for 26 artists to show for free at Geisai, which was positioned on the second floor of popular satellite fair, Pulse. If there's anything that artists need more of, it's free shit. Go Murakami!