It's Britney Spears, Bitch… And a Circus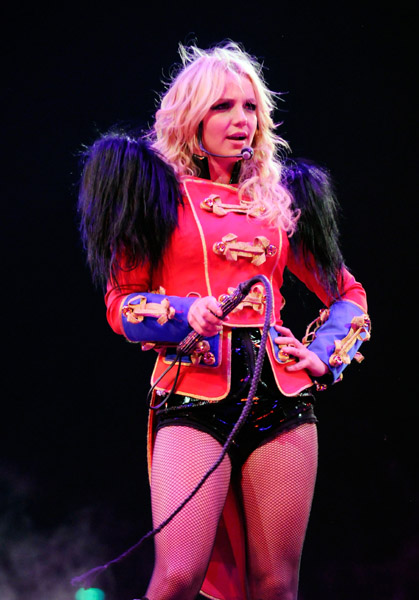 I was in my car on the way to the Prudential Center in New Jersey. That's when Hawkes realized we were going the wrong way. We're supposed to be going to Meadowlands. 20 minutes later. We're in the Meadowlands. No, the tickets definitely say Prudential Center – Dammit – we're definitely 20 minutes away from the Prudential Center. 45 minutes later we're walking down the street with herds of New Jersey's finest ladies. I mean herds. This is not your everyday type of crowd. There are girls dressed like early Britney Spears. There are girls dressed like old Britney. I didn't see anyone who was sporting her shaved head look, but I'm sure there was at least one person who managed to find her beholden even then.
As I walked through the gates to screaming women shuffling/running insanely in every direction I realized that Britney Spears is more than just a human. She is the complete package. It's not just teenagers who came to see it. It's mothers who dragged along their teenagers. There are groups that didn't bring their teenagers at all. There is so much yelling happening – why is everyone yelling? – there's no reason to yell – wait a minute, I feel like yelling too – it's really exciting – we're going to see Britney fucking Spears in concert.
Before entering the stadium I have to hit the bathroom. I'm not telling you this because I want to give you the play by play, but to further illustrate the point that 'I'm not in Kansas Anymore'. The men's bathroom is literally empty. I am the only guy in there. At other Britney concerts they re-appropriate the guy bathrooms into girl ones because there is just no need. They must have heard that I was coming.
Two beers and a popcorn later we walk into the stadium – It is fantastic. The place is nearly filled up as The Pussycat Dolls finish their set which ends with a cover of 'Jai Ho' (except with the Dolls lyrics). Sometimes I wish the 'play the song exactly as it is, and have us sing over it Karaoke style, but with different lyrics' fad had never happened. They leave spiritedly in their super sparkly clothes. The tension mounts in the stadium – chanting for Britney to come out – the place is officially full to the brim.
A couple of guys wander onto the giant stage on either end. Each takes out a wall of what seems to be chain link fence. The guy on my side twirls it, throws it in the air, dances with it, puts it down, picks up a cube of metal pipes, hula hoops with that, spins it on his nose, and puts that down. Then clowns replace him. Then ninjas come out and do a really elaborate routine with swords. Then clowns again. Finally another two guys come out with a giant plank. A ballerina-ish looking girl takes center stage. She gets on the plank, and they use it as a rubber band. The girl goes flying up, and does three or so flips in the air before landing back on the plank. At this point I'm kind of hoping Britney doesn't come out soon because the circus is awesome.
Chanting begins again, and a giant circular lcd screen descends onto the stage from above. A bizarre video of Perez Hilton playing a queen happens, and right at the end Britney shoots him down. Spears finally gets onstage with a posse of ladies who follow her in a 'flying v' formation a la "The Mighty Ducks". She "sings" 'Circus', and the crowd loves it. They love Britney. Hell – I love Britney. She 'sings' all the songs from her album to a chorus of fireworks, acrobats, dancers dangling from wires, plumes of gas and fire, tricked out bicycles, floating antique couches, and so much more.
In the entire show I think she uses her real voice twice to say, "Hello, New Jersey!" then towards the end "Thanks so much!". Each time I think I hear the mic immediately cut out so they can play the soundtrack again. It's okay though – I didn't come to a Britney concert to watch her sing. I came to see the spectacle. She dances well enough, but mostly she struts around the stage defiantly with the posse attached. Sometimes they change it up to an all male posse or a ninja posse depending on the song.
The best moment of the night was definitely 'Hit me Baby one more time' which seemed to unite all the Britney fans together. Although I think that's also when things started happening around me. An angry mother had been telling her kid to stay in her seat for awhile. The girl had gotten up a few times throughout the concert, and tensions were high (I suppose). I think the kid wanted to look at some pictures on their digital camera, and mom didn't want to give it to her. The mom suddenly explodes into yelling right at the little girl – then girl was yelling back at her mom – and the song is going 'hit me baby one more time' – and it was just a mess.
We left the stadium with the flood of ladies. I looked back just for a second to take it all in one last time. What a beautiful mess Britney Spears is – A completely engrossing phenomenon, at once a star and a train wreck happening at the same time.