10 For the Ladies… Redux
Inspired by HK's piece on Moneyball, I'm revisiting an old post, celebrating the ladies of both the small and silver screen who make me proud that I have girl-parts.
Below, I present to you ten totally fictional, but awesomely varied, tough and sassy ladies who have earned my support over the years. And to the writers (Aaron, your 'ladies' made this list TWICE. We NEED you!!!!) who created them, I thank you.
1. Claudia Jean 'CJ' Cregg, The West Wing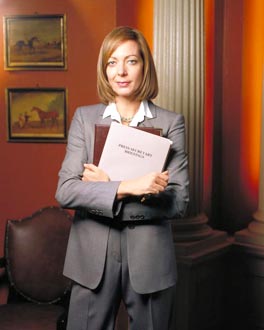 "The more I know, the more I can help you. And don't be concerned with my exposure — I'm not your daughter, I'm the White House Press Secretary."
boom.
Serving as the face of the Bartlett Administration, CJ, initially finds herself immersed in a bit of a boys' club, only to TOTALLY DOMINATE… and get promoted to White House Chief of Staff. Take that, glass ceiling! But seriously, in a job where she is required to face/accept a number of unpleasant realities, on a daily basis, this woman handles herself with the utmost grace and optimism (even when she falls down, which she does… frequently), and is never afraid to dish out a little tough love, when need be. And oh yeah… she raps.
2. Angela Chase, My So-Called Life
"What I, like, dread is when people who know you in completely different ways end up in the same area. You have to develop this, like, combination you on the spot."
Angela's insights never stop being true. So painfully true. Even now.
Back in 1995, it meant so much to see a young girl be so thoughtful and observant, inquisitive about the world around her. Now it's important because Angela helped us learn to identify the Jordan Catalanos in the actual world. He's not tortured, okay. He wrote a song about his car.
3. Beatrix Kiddo, a.k.a. The Bride, a.k.a. Black Mamba, Kill Bill Vol. 1 & Kill Bill Vol. 2
"You and I… have unfinished business."
The amount of suffering this woman endures– physical, mental and emotional– is enough to destroy, I mean, utterly demolish a normal human psyche. But she's not a superhero. And she's not a vigilante. And she's not crazy… or sane. This is a story about choices, and this woman makes hers, without apology.
And hello! Who wouldn't want access to a samurai sword??
4. Daria Morgendorffer, Daria
"Smart is not a four-letter word. That would be smar-"
For all her dryness and sardonic wit, Daria was always willing to admit that she didn't have all the answers. But she made it cool to be smart… and always made me laugh.
5. Lelaina Pierce & Vickie Miner, Reality Bites
"I was really going to be something by the age of 23." — Lelaina
"Evian… is naive spelled backwards." — Vickie
Ah, the 90s. For much of my adolescence, these two characters embodied the complexity of the modern young woman, and the idea that ambition can be applied to any career path and any lifestyle.
After Lelaina gets canned from a bullshit job that she's obviously overqualified for, and then TOTALLY FAILS at finding another one, you know what she does? Girlfriend hustles, that's what. No tears, no panicking. And when her artistic efforts get completely disfigured by a trashy cable network, she has enough self-awareness and integrity to be appropriately insulted and outraged. And kudos for being one of the few fictional 20-something women who don't aspire to work at a fashion magazine. No offense to the fashion industry. Most of us appreciate pretty clothes, but like… it's not every girl's dream, okay.
And Vickie can hang simply because of that hilarious/heartbreaking diatribe about how her life is like "some crappy show like Melrose Place" and people will come to her funeral wearing "halter tops and chokers or some shit."
6. Clair Huxtable, The Cosby Show

ow, ow!!!
7. Amelia 'Amy' Gardner, The West Wing
"I didn't burn by bras, J. In fact, I like my bras. I ring your bell when it's important."
Oh, snap!
Not many people can keep up with the likes of Joshua "Special J" Lyman, let alone level him WITH HER EYES. Ivy League educated and a devoted public servant, Amy is most certainly not meek. In fact, you get the feeling that the early years of her career were spent being sorely underestimated, allowing her to hone her ball-busting skills. What I love about her is that she acknowledges the distinction between (as CJ once put it) women's issues and dumb women's issues. Upon her first meeting with the Bartlett Administration, she calmly and charmingly asserts herself as someone who should definitely be taken seriously… complete with balloon animals.
8. Faith Lehane, Buffy the Vampire Slayer
Buffy: "Wait. Stop! Think."
Faith: "No. No. No."
I know there are comic book fans in this circle, so here's some very brief backstory, if you've never seen the show. Faith is a slayer who crosses over to the dark side and then reforms again. The writers drew inspiration for her character from Elektra, of Daredevil fame. And that picture (from the Buffy Season 8 comic) kind of says it all.
I do love Buffy (the character), but creatively, I have a soft spot for Faith. In most stories, women are rarely permitted to make mistakes to the degree that she does and still be redeemed. And if they are, it's usually only in death. Faith is driven by self-loathing, in deeds both good and evil. It's an important part of our humanity that is endlessly explored in men, but rarely in women, unless she's like… sexually abused or a drug addict or a hooker or something.
9. Maria Elena, Vicky Christina Barcelona
"Not talent. I'm not talking about talent. I said gen-i-ous."
To deem her solely crazy is just unimaginative. Rarely have I seen a female character so emotionally aware and completely undaunted by her dark side, and without the obligatory tattoos, piercings and black eyeliner.* She's totally unfiltered, totally unapologetic, totally punk rock!
*Nothing wrong with any of those things, but if clothes don't make the man, they certainly don't make the woman either.
10. Mona Lisa Vito, My Cousin Vinny
"Oh my god, what a fuckin' nightmare!"
I mean… how do you not love her? That floral jumpsuit she wears while stomping her feet, fretting about her biological clock??? Amazing.
Yes, Lisa wants the big church wedding, 'with bridesmaids and flowers', but she's not just chasing down a diamond ring.
She's got her own set of skills: she'll fix your car and style your hair, all in the same day!
She actually reads the newspaper: Jerry Gallo's dead.
She's resourceful: no traveler's checks? No worries! She'll hustle up some money with a friendly game of pool. Just don't stiff her when you lose.
But most importantly, she's both authentic and a good girlfriend: proof that the two should never be considered mutually exclusive.
And even though it's played for laughs, Vinny and Lisa actually have one of the most healthy relationships I've ever seen on screen.
Don't see the awesome lady of your dreams on this list? Tweet 'em to me! @jiunkwon