01.05.08 My Top Ten RIGHT NOW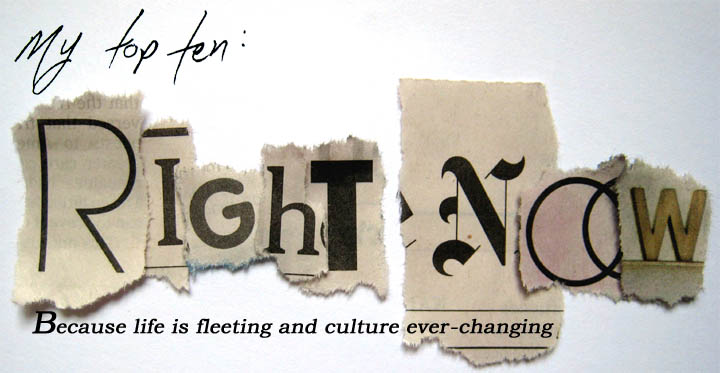 Year Begins: Things to look forward to…
1. STAGE 9 to 5 (April 2009)
Based on the 1980 femme centric revenge film comes a new musical with new songs composed by Dolly Parton to accompany her iconic title track. It's that last bit of information about the composer that keeps me from grousing at the idea of yet another Broadway bound adaptation of a popular movie. Plus Allison Janney taking the Lily Tomlin role seems to have great promise.
2. MOVIE Watchmen (March 2009)
I love Alan Moore and Dave Gibbon's graphic novel. I loved Zach Snyder's 300 for all it's trashy ab-tastic-ness. And I love the potential of the cast: Jeffrey Dean Morgan, Carla Gugino, Billy Crudup, Jackie Earle Haley and Patrick Wilson. Yes, I will be one of those fan boys on opening day, and I will relish it!
3. ALBUM Noble Beast Andrew Bird (January 2009)
After enjoying the personal discovery of this artist and his many forms this past year, the thought of actually being up to date enough to be there when the new offering hits the store has put a big smile on my face. And apparently there will be a special edition of this CD equipped with an all-instrumental lineup called Useless Creatures.
4. ALBUM Hazards of Love The Decemberists (December 2009)
This is a release that I have very little info on, but I find you don't really know anything about any of their CDs until you put one on and immerse yourself in what it has to offer. Apparently this will be a return to folk roots, away from the more produced sound of The Crane Wife. Do whatever you want Colin, it all works for me.
5. TV Dollhouse (February 2009)
From creator Joss Whedon, this show promises to be extremely strange. And either it's going to completely work or fail, but either way, I'll be watching. With the promise of musical numbers and madcap genre skewering, it at least will be a fascinating train wreck. And after all the hype for Buffy, Angel and Firefly (which I remained generally ignorant of), I wouldn't mind getting onboard before all the cultish craziness and cancellation.
6. MOVIE The Road (Spring 2009)
I didn't love the Cormac McCarthy novel that the movie is based on, mainly because of the non-prose style, but the entire time I was reading it, I was extremely curious about how it could be made into a movie. It certainly will be bleak, no matter how they approach the subject. And more than anything, I'm always excited to see what Viggo Mortensen will do next.
7. STAGE Guys and Dolls (March 2009)
I certainly don't think the great white way needs to bring this one back, but it's the fascinating casting that has me hooked. Lauren Graham, of Gilmore Girls fame (how I miss that show!), will be taking on the role of Adelaide, opposite Oliver Platt's Nathan Detroit and throw in Craig Bierko as Sky Masterson… some left field casting and therefore worthy of my interest.
8. MOVIE Harry Potter and the Half Blood Prince (July 2009)
Nothing really needs to be said other than it's another Harry Potter film and therefore I will be there. David Yates is back in the director's chair and while he's no Cuaron he did an admirable job on Order of the Phoenix. The delaying of the release from this past Thanksgiving only adds to my interest.
9. ALBUM New Album from Tegan and Sara (Fall 2009)
I have no information on this new release, but because I enjoyed 2007's The Con and especially 2004's So Jealous, whatever they have to offer, I'm buying.
10. ALBUM Middle Cyclone Neko Case (March 2009)
With 12 newly written songs and two covers including Harry Nilsson's "Don't Forget Me," how can I not be thrilled! Also featured will be M. Ward and Calexico. Sounds like music to my ears.