Top Ten Songs You Can Dance To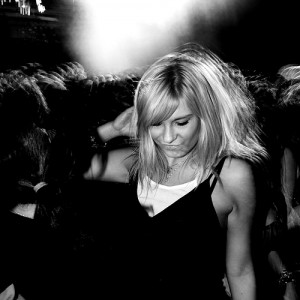 New Years Eve may be one of the biggest party nights of the year, but let's be honest here, there's gonna be a lot of events where people will stand around, make small talk, sip a little alcohol, and wonder how in God's name they're going to find a lady to kiss at midnight. Personally, I think these parties just need a little ass shaking. Unfortunately, the spontaneous dance party is a rare and much sought after animal, especially on a night like New Years, when you're dealing with a bunch of lapsed partiers. It's like Christmas Mass at a Catholic Church; you get people coming out of the woodwork…
Now, I've started to notice that certain songs are more likely to get a hesitant group moving in the right direction. I've put together a list, but I want to be clear about this: these aren't actually my favorite songs to dance to; they're just the most accessible. You might love Lil' Jon, but think about your friend's sister… You know, the one with the Indigo Girls tattoo? She ain't gettin' low any time soon. Save that one for 2 am when she's been dancing for an hour and she's on her fifth buttery nipple.
Besides, everyone's been there when some drunken partier decides to spice things up and puts on a "personal favorite". It's awkward, it's generally unattractive… and it gets really bad if they insist on dancing for the whole song. Alone. I've seen this happen. Don't be that person.
We want the song that gets your introverted friend to surprise everyone and bust out with some Beyonce moves. They may be cheesy for most serious music people, but that's kinda the point… if you're into music, you're probably gonna dance anyway. These songs are not for you – you just have to tolerate them. And most importantly, these songs need some cross-genre appeal. You may love jumping around the room to Coldplay (and bless your soul for that) but the Hip Hop head next to you needs a beat to make things work.
And one more thing – dude songs don't cut it. Six guys in a circle head banging to Metallica may be fantastic, but that's not what we're going for here. You gotta get the ladies involved…
After the Jump: The List…
10. Hypnotize – Notorious B.I.G.
If you were alive and aware in the last 15 years, you know this song. Everyone's got to respect Biggie. Just about everyone can dance to it, and people you wouldn't expect will bust out with all the lyrics. It ranks at 10 for one main reason: I associate this song with freshman year frat parties at Cornell. That's not where I usually look for good music decisions. Still, if you're talking about spontaneous dance parties, you can't beat Biggie's funeral procession in Bed-Stuy – it's still one of the best ways I've ever seen to honor someone's passing…
9. Stuck in the Middle – Stealers Wheels
This is surprisingly fun song to dance to. As Michael Madsen demonstrated in Reservoir Dogs, you can be doing almost anything and still have a good time listening to it. Plus, it works well for those who might be a little skeptical of hip hop…
8. Get Up Offa That Thing – James Brown
The Godfather of Soul deserves a place on any dancing list, and plus, the dude has got to be responsible for more conceptions than almost anyone in history. I wonder if there's some way to track that. Maybe it deserves another top ten list…
Most importantly, Mr. Brown is great for maintaining a delicate party environment in which members of the older generation can be hip to the game while the rest of us avoid the dreaded wedding party vibe.
7. Let Me Blow Ya Mind – Eve (Featuring Gwen Stefani)
I spent a semester in Rome in College, and there was this club called Chaos in Trastevere (sort of the Brooklyn of Rome) which was the only place we ever found that played consistently decent Hip Hop. Trust me… dancing to Kylie Minogue while hordes of little Italian dudes try to hit on your friends is not fun. This song always got everyone out on the dance floor, and usually got at least a few people to do a little grinding, which ups the party level nicely. Besides, the beat is really simple, so people with limited ability can still hang in there.
6. Raspberry Beret – Prince
&
5. I Look Good in Leather – Cody Chestnutt
Credit for these two goes to the girls from Barnes Street. My senior year of college, I hung out a lot at Brown University with a group of girls (and a few guys) who were ridiculously good at generating spontaneous dance parties. I once drove six hours to get to a party at ten, then drove six hours back the next morning to get to class at two. This will happen when the first time you show up in a dorm room, the resident girls randomly get together and perform a full dance routine to "Fuck Her Gently" by Tenacious D. In pajamas. Brown was fun. I also watched a dude do a great Axl Rose impression wearing nothing but sneakers and a traffic cone. Not hot like the girls in Pajamas (unless that's your thing) but impressive nonetheless.
Prince is always good – and the chicks dig him. By the way, as a side question, how many girls out there find Prince attractive? Like actually want to sleep with him? He's never been believable to me as a sex symbol – but I've found that a lot of girls think he's genuinely hot. Really? He's like four feet tall and just about as effeminate as you can be without a sex change.
And this Cody Chestnutt song is great – some people may not have heard it before, but it's easy to get into…
4. Gold Digger – Kanye West (Featuring Jamie Foxx)
I recently spent six months living in Chattanooga, and I hung out at a place called the Electric Cowboy. It was great – three bars, ten pool tables, a dance floor, and yes, an electric bull. I've always wished they could bring one to NYC, but then again, it would be overrun by ironically dressed hipsters, which would ruin everything. Oh well.
The DJ at the Cowboy would alternate between hardcore country and dirty south rap, usually three songs at a time. The dance floor was a raised wooden platform in the center of the club, so dancing was a serious decision. Everyone in the bar could see you out there. I loved it. You'd have people with cowboy hats line dancing for one song, and then the same people would be freaking to the Ying Yang Twins for the next one.
I think they played Gold Digger every night I was there (the rotation was pretty predictable) and it would always get the fringe people up and onto the floor.
Oh, and if you ever happen to be in Chattanooga, check it out. Ask for Becky Bright – she's awesome.
3. I Don't Feel Like Dancing – Scissor Sisters
A certain Hawkes Klein has been known to play this song repeatedly over the course of a night. I'm not sure if everyone knows this about her, but Hawkes may be more addicted to spontaneous dance parties than anyone else I know. I've watched her start a whole hell of a lot of them with the help of the Scissor Sisters. She even managed to get a bunch of young democrats in suits and ties to lose all sense of decency and bust out some serious moves. Well done.
2. I Wish – Stevie Wonder
Stevie is the man. There's no getting around that. Besides, how can you argue with a song that's all about the real reasons we love music? And please, don't let Will Smith ruin this one for you. It's a great, great song. Shame on him for associating it with giant mechanical spiders.
1. The Seed (2.0) – The Roots
This one was really easy. Something about the beat, and the fact that it's The Roots, who are effortlessly cool at all times… I don't know… it's just really, really fun to dance to. Plus, whenever I've heard it played, everyone in the room seems to agree.
You can't ask for much more than that…
Suggestions? Think my choices suck? Let me know in the comments section…