12.29.08 My Top Ten RIGHT NOW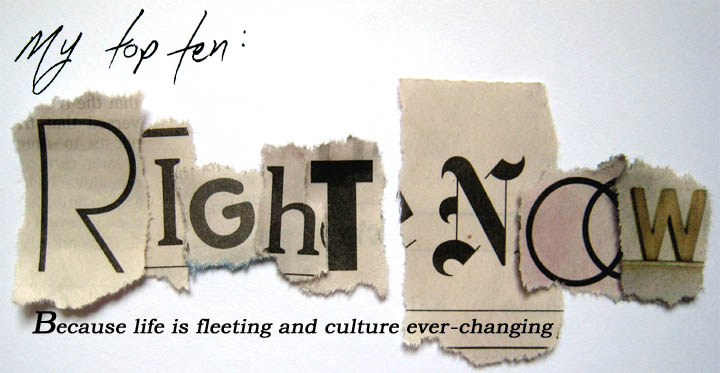 Year Ends: Not necessarily the best, but the best of what I remember…
1. STAGE August: Osage County
Beyond supporting my hometown players of the Steppenwolf Theater, this play sizzled with a fresh and new voice. Creating a complete family tree and watching them self-destruct on stage generates a fascinating and haunting night at the theater. But the heat is truly turned up to beyond a boil from the Tony Award winning performances from Deanna Dunagan and Rondi Reed and the nominated Amy Morton (who also deserved to win, but lost to her costar, so what can you do).
2. ALBUM Hand Built By Robots Newton Faulkner
At the end of the year, I always like to think about the albums that I go back to constantly and Faulkner's album has been on heavy rotation since I purchased it. It's the perfect soundtrack to put me in a good mood and keep me in it. The album is chock full of hits, from the happy anthem "People Should Smile More" to "Dream Catch Me" to the Massive Attack cover "Teardrop" each with a perfect hook that just keeps me coming back for more. If you don't have this album, you need it, now.
3. ALBUM Glass Box Philip Glass
At the end of the year, I also think about albums that hold great meaning to me despite not listening to them quite so often. This entry from Nonesuch Records is too stunning to be ignored, from the design of the actual box to the hours of sublime music it contains. The ten discs include excerpts from the operas Satygraha, Einstein at the Beach, Akhnaten, the bombastic and perfect 8th Symphony, there's just more music than you can possibly imagine, and each piece demonstrates a superb career from start to present. Just when you think repeated chords could get boring, another track reminds you what this music is made of.
4. ALBUM For Emma, Forever Ago Bon Iver
This is the music that haunts my dreams. I just can't forget it. Listening to this album is a little like praying and every time it gets played on television, I find myself asking, who sings that, only to remember that I already know and love it.
5. PLAY The Seafarer
Conor McPherson wrote and directed this thrilling and surprising play about a crazy game of poker during a cold Christmas Eve in Ireland. Aside from a brilliant script, this show boasted a scary performance from Ciaran Hinds, of Rome fame, and the quiet cool moral twisting of David Morse. But it was the sad comedy of Jim Norton that took the show straight to the top. An evening to be reckoned with.
6. MUSICAL The Visit
One half of Kander and Ebb might be in heaven, but their shows are very much of the earth. Never making it to Broadway, this weird concoction, about a depressed town and the homecoming of the one woman who left and became rich, tackles huge issues about greed and selflessness. And Chita Rivera shines in a role tailor made for her humor and aged beauty. This musical felt like Guy Madden's The Saddest Music in the World fully realized for the stage.
7. MOVIE Boy A
This movie hasn't left me, both visually and thematically as you watch the journey of a person returning to the world after being incarcerated as a juvenile for a horrendous crime. You want to believe that this man has changed, is making a new way, and deserves the support of the community, but you can't blame the community for being fearful. A morally complex film delivered in a beautifully composed package blessed with fantastic performances. Entrancing and gut wrenching from beginning to end.
8. MOVIE WALL-E
A nearly silent kid's movie about the end of consumerist society on earth that opens with a tune from Hello Dolly! It's all very strange, but you can always trust the people at Pixar to deliver. And boy, do they ever. I never believed that I could care that much about two robots and the last sign of life on a barren planet. But the animation captivates and humanizes in a way that goes beyond caring. It still might not be a kid's movie, but it is most certainly one of the best films of the year.
9. MOVIE In Bruges
Martin McDonagh is one of my absolute favorite playwrights, but who knew he could direct a movie? (Aside from the Academy, which gave him an award for a short a couple of years ago). At times funny and at times horrific, McPherson brings his signature wit to the big screen and pulls out a performance from Colin Farrell that reminds you why he is a star. But it is the sadistic performance from Ralph Fiennes that really hits home. It's not a perfect film, but has way more to offer than I expected when I walked in.
10. CONCERT Austin City Limits
I recently made a playlist on my iPod of every band that I saw at ACL so that I could mash it up and keep the hits going. There were well over 300 songs and indeed it is an excellent playlist. To think that Neko Case, Robert Plant, Alison Krauss, Erykah Badu, Glen Hansard, Jenny Lewis, Vampire Weekend, Hot Chip, and so forth and so on, all played in the same place over the course of three days is just too good to be true. Thankfully the iPod is there to constantly remind me how lucky I was to have been there.