12.22.08 My Top Ten RIGHT NOW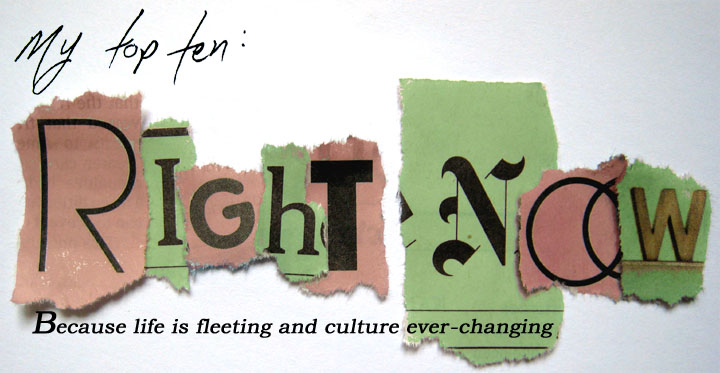 Holiday Music Edition from a Christmas Lovin' Jew
1. SONG "I Remember" Barbra Streisand
Not at all a Christmas classic, rather a song from a rarely seen Sondheim television musical called Evening Primrose, but thanks to a new little intro, the Christmas spirit is alive and well, altering all that follows. The song mixes the excitement of the holiday season with the funny way holiday memories have of continually piling up, becoming indistinguishable and breaking down over years. Basically the perfect mixture of joy and melancholy that is the Season of Cheer.
2. COLLECTION Songs for Christmas Vol. 1 through 5 Sufjan Stevens
This quite an audacious box set just in sheer size, coming with 5 CDs, stickers and a poster, all priced rather modestly. Stevens combines new compositions ( "That Was the Worst Christmas Ever) with Christmas classics (like his dazzling "O Holy Night") all orchestrated in his trademark folk sound, filled with flutes, bells, guitars and any other instrument that was lying around to create that awesome sound. In this guise, these orchestrations take on a warm and wonderful feeling of home crafted goodness, as if we could all really gather around, become musical geniuses and sound this delightful.
3. SONG "Let It Snow, Let It Snow, Let It Snow" Elaine Stritch
Stritch's signature husky rasp, more in tune here than in more recent years, is an odd choice for this happy holiday tune but somehow works seamlessly. The orchestration is filled with horns turning this classic into a vamp right down to the second verse sung as a mocking children's rhyme breaking into the third verse with all horns a blowin'. Who said the holidays can't be sexy, in that old fashioned way.
4. SONG "What's This" from the Film Soundtrack of A Nightmare Before Christmas
This Danny Elfman song from Nightmare is a splendid way to approach Christmas as a jaded adult. Jack's sheer delight and confusion at the happiness that surrounds him in Christmastown seems perfectly suited to the modernization and destruction of the more wholesome origins of the holidays. And for a bit of extra fun, take a listen to Fall Out Boy's rocking redo of the track from the special edition released a couple of years ago, sleigh bells still included.
5. SONG "The Atheist Christmas Carol" Vienna Teng
At her piano and accompanied by quiet drums and a violin, Teng embodies the sound of many Christmas classics, but instead offers a depiction of the season as cold, haunting but always with the sense of hope that we are not alone. In the chorus she constantly sings, "don't forget, don't forget, I love, I love, I love you." It's potentially too simple, but at the end of the day, isn't that all we really are trying to say during the holidays?
6. ALBUM One More Drifter in the Snow Aimee Mann
Who would ever expect a holiday album from the queen of dark and pointed vocals, but hey, here it is, and it is marvelous. She opens with "Calling on Mary," in her usual style of singing Merry Christmas as if it were a threat or an accusation. But she quickly moves through the classics with surprisingly little irony, using the best of her deep voice to bring us "God Rest Ye Marry Gentleman" and a '50s slide guitar rocking "Winter Wonderland." And there is certainly no arguing with covering the modern classic "You're a Mean One, Mr. Grinch."
7. ALBUM Snow Angel Over the Rhine
Offering all original compositions, this is a beautiful mixer to all the Christmas classics that tend to get grating by the end of the season. Setting the mood with the opener "All I Ever Get for Christmas is Blue," Karin is in fantastic smoky bluesy voice, hitting to the heart of the holidays. The title track, filled with just piano and cello, sounds like a new classic carol, but listening to those lyrics, well, it's something else entirely, quite literally about an angel. And just so you don't think it's all dark and dreary, "Darlin' (Christmas is Coming)" is a delightful jingle bell tune.
8. SONG "Have Yourself a Merry Little Christmas" Judy Garland
Nothing says Christmas to me more than Judy Garland, beautifully posed in the window of her St. Louis home, crying over the thought of leaving it all behind. It's heartbreaking, its simple in sentiment, it's Christmas.
9. SONG "Grown Up Christmas List" Jane Monheit
Considering the troubled times we're seeing around us all the time, this song strikes a massive chord preaching that while we may grow up, we don't stop needing the same faith and belief of a child. Monheit's buttery sweet voice gracefully navigates this orchestra-based production, holding back from the easier overwrought emotional place one could go. You can also check out Streisand's version, but it somehow feels less authentic. Also, I'm quite the fan of the video made to accompany the track… take a look.
10. SONG "What Are You Doing New Years Eve" Rufus Wainwright
Stripped of the usual bombastic production values on his tracks, Rufus croons to a simple piano and violin accompaniment about that inevitable question, who are you going to be kissing when midnight strikes. That angst ridden hope that the person you want will be the person standing next to you is a universal emotion that seems to eclipse those other questions, like whether or not you're actually going to follow any of the resolutions you make.