12.08.08 My Top Ten RIGHT NOW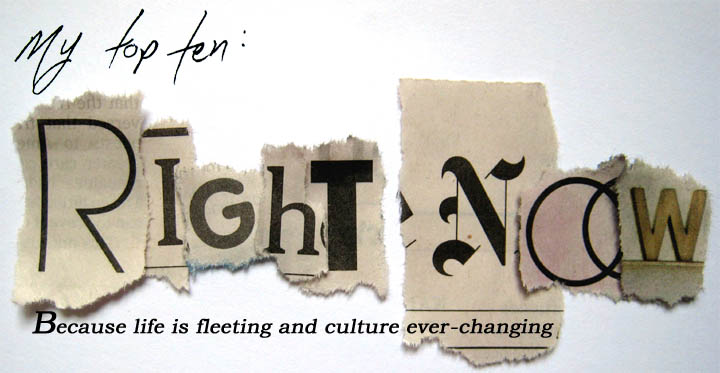 1. ALBUM Funhouse P!NK
Clearly breakups bring about some of the best music and P!nk packs quite a punch in this album of love lost from the hit angry single "So What," to the heart wrenching "I Don't Believe You." Seriously, just try to not have your heart break when you listen. But don't get me wrong, the girl still knows how to have fun, in evidence on the odd title track, songs about clowns are still just plain scary, and the excellently jaunty tune "Bad Influence" that makes having a hangover at one in the afternoon sound like a rollicking good time.
2. MUSICAL What's That Smell: The Music of Jacob Sterling
You could say it is like shooting fish in a barrel, but this show does a fantastic job lampooning a niche of the New York Theater world: the failed, gay, pushing fifty, musical composer. David Pittu beautifully assumes the egotistical lead, Jacob Sterling, in performing his song cycle on New York City, "What's That Smell," and his tribute to 9/11 entitled "That Goddamn Day." This show clearly floats on the edge of inappropriate, but does an excellent job not crossing over. For anyone that has ever spent time in a piano bar, these characters are very much alive and well, and this is a most excellent and accurate skewering of said types (and just so I don't get any angry emails, I'm one of those people).
3. BOOK The Reader by Bernhard Schlink
Maybe I enjoy punishing texts a little bit too much, but this is a true winner. Taking on a holocaust story and putting the atrocities committed as a side note is a daring concept, but the alternate horrors this opens the book up to are incredible in their own very personal scale. Reading like a man doomed to tell his story until he can tell it no more, this is a captivating narrative that had me reeling from beginning to end. I can only hope that the upcoming movie adaptation manages to capture an ounce of the beauty and glorious pain held within the pages of this book.
4. APPLICATION The map function from the newest iPhone update
For anyone living in New York, the iPhone just became a whole lot more essential. The map function has been revolutionized by basically becoming HopStop. You can get driving, walking and mass transit instructions between any two locations. Beyond that, you can tell it what time you want to depart or arrive and it will let you know the closest and fastest subway and when the next few trains are leaving the station. I was hugely skeptical because how much can anyone rely on the MTA to arrive and depart on a schedule. Well, for the past week, the iPhone was within two minutes of the estimated time that the train actually departed and arrived. I'd say that's pretty incredible, especially late at night when you're trying to decide between a cab and the subway.
5. OPERA The Damnation of Faust
There is absolutely nothing to this story. Old man sells his soul for true love and youth, sending his true love to heaven and himself to hell. To think that it takes three hours to tell is a little shocking. But with a production this ornate and fascinating, it could take six and I'd be happy. Robert LaPage (also director of Cirque's Ka) has put together an arsenal of visual effects, both human and technologically based, that transform the stage into a multimedia extravaganza perfectly choreographed to Berlioz' choral score. His inspiration is the dawn of cinema, giving the simple story a hard modern edge. Performance-wise, the true gem is Susan Graham as Marguerite, taking the second act by storm with her haunting aria.
6. MOVIE Love is the Devil (1998)
This film is beguilingly visualized, if lacking a bit in narrative, focusing on British artist Francis Bacon and his torrid love affair with George Dyer. Performances from Derek Jacobi, bearing all sorts of artistic rage and fey humor, Daniel Craig, simply bearing all, and a nearly unrecognizable Tilda Swinton are deft and honest. But it is the manner in which the camera finds real life equivalents to Bacon's grotesque and obscured faces that really brings this piece together. Using distressed mirrors, blurred lenses, double images, odd angles and a whole bevy of tricks, director John Maybury brings to life Bacon's work without ever showing a single painting.
7. OPERA Met HD Simulcasts
I've been a huge supporter of this concept ever since Peter Gelb introduced it a couple of years ago. The problem was, I had never been to one until this past week. Well, I was right to support it. The seats are a bit comfier, I wore jeans and a t-shirt, no one minded that I ate my dinner while watching, I only paid $18 for my ticket, and the extra commentary and backstage antics were funny, humanizing and worthwhile. While I enjoy the grandeur of attending the opera, this is an equally wonderful way to experience the magic of the art form. My only criticism is the camerawork repeatedly preempted the stage movement and oftentimes isolated something in such an extreme way that you couldn't figure out what part of the stage you were looking at. If we could get some real film directors to take care of these live simulcasts, then this would be a new art form in itself. (Met Opera, my phone line is very much open, please call…)
8. WEBSITE Bitter Lawyer
Aside from having the most fantastic URL ever, this site offers everyday humor from a lawyer's perspective. The photo caption contests are hilarious, the exclusive on the whereabouts of the players from the OJ Simpson trial is quite enlightening and the Ex-Bitter column that currently is featuring a shocking report on an unethical lawyer fascinates me. All in all this website brings a smile to my face while making me extra happy that I only observe this world from the outside rather than actually being a lawyer.
9. SONG "Love Will Come Through" Travis
There are just certain songs that seem to follow me wherever I go, and this Travis song is one of the strongest followers. Opening with a guitar lick that leads to drumming and strange bells, the song breaks open into Healy's voice and I'm just sunk. The music is so meandering and hypnotizing that you become completely swept up in the aural goodness. The hook is equally hypnotic as the band joins in on the vocals. And I'm always a sucker for that little bit where it just becomes vocal and drums and gets all quiet just to burst open again. This is good music.
10. TRAILER Pixar's UP
Pretty much the site of the Pixar logo before a movie or a trailer gets me going, and luckily the coming attraction for their next release doesn't disappoint. Once you get past the clip reel extolling the genius of all the previous films, there's a lovely teaser for the newest, entitled UP. Focusing on a curmudgeon of a man running away from the old folks home in a very unique Jules Verne-esque way, this film looks like it holds the promise of all the Pixar greats. The doughy human characters are filled with humanity and spunk and you just know that the story will go somewhere interesting. When will mainstream live action films become this exciting?