Final Thoughts Before the Big Day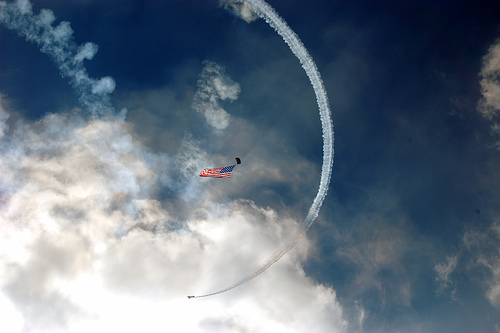 Well, in less than 24 hours, we'll finally get to vote. And in less than two days, we'll know who won. It feels sort of like Christmas mixed with Final Exams mixed with the night before a wedding… it's such a strange combination of fear and anticipation.
I remember a Super Bowl where some old NFL legend was imparting a little wisdom to the announcers and any of the players that were paying attention. He'd been there, and he said the most important thing to remember was to find the time, at some point during the game, to look up. Soak it in. Remember you were there… Because you should never let the fear of losing ruin what could be one of the most memorable moments of your life.
I'm not going to the Super Bowl, but I think this election could be one of those moments in history, so I thought I would start remembering by keeping track of some of the great writing that's coming out right now – cause I know it's gonna be hard to go back and find it all, whether Obama wins or loses.
If you read any articles that really speak to you, throw links into the comments section and I'll try to post them all as we watch this election unfold…
A few to get us started…
"The truth is: we are in a war for the future of human civilization. We are fighting for a world in which destructive technology need not collide with fierce religious fundamentalism to annihilate us all; for a world in which dialogue across cultures and religions and regions (even within America) is essential if we are to survive…"

"…In this war, we are also fighting for an America that does not lose its soul in fighting our enemy. Just because we are fighting evil does not mean we cannot ourselves succumb to it. That is what my Christian faith teaches me – that no nation has a monopoly on virtue, and that every generation has to earn its own integrity. I fear and believe we have given away far too much – and that, while this loss is permanent, it can nonetheless be mitigated by a new start, a new direction, a new statement that the America the world once knew and loved is back."

"Barack Obama For President" – Andrew Sullivan

"Right-Handed McCain Claims He's Been Campaigning Lefty All Along"

"Breaking News" – The Onion
More After the Jump…
"'Forgotten but not gone' was the way in which the supremo of Boston politics, Billy Bulger, liked to dismiss the human irritants he had crushed beneath his trim boot. The same could now be said for the hapless 43rd President of the United States as the daylight draws mercifully in on his reign of misfortune and calamity. How is he bearing up, one wonders, as the candidate from his own party treats him as the carrier of some sort of infectious political disease? How telling was it that the most impassioned moment in John McCain's performance in the final debate was when he declared: "I am not George Bush."

Where, O where are you, Dubya, as the action passes you by like a jet skirting dirty weather? Are you roaming the lonely corridors of the White House in search of a friendly shoulder around which to clap your affable arm? Are you sweating it out on the treadmill, hurt and confused as to why the man everyone wanted to have a beer (or Coke) with, who swept to re-election four years ago, has been downgraded to all-time loser in presidential history, stuck there in the bush leagues along with the likes of James Buchanan and Warren Harding? Or are you whacking brush in Crawford, where the locals now make a point of telling visitors that George W never really was from hereabouts anyroad.

"Nowhere man: a farewell to Dubya, all-time loser in presidential history" – Simon Schama
"For decades, I have said that the 1960 Kennedy-Nixon campaign was the best I ever saw. But most of the drama in that contest came after Labor Day. This time, the excitement was generously distributed over a whole year, with moments of genuine humor from Huckabee, a torrent of uninhibited conversation from McCain and Biden, and rare eloquence from Obama and both Clintons. The country faces a choice between two men who both promise the nation a more principled, less partisan leadership.
And meanwhile, what a show it has been — the best campaign I've ever covered."

"The Amazing Race" – David S. Broder
"It's one evening late last week, and four men are sitting at the corner of the bar at Londel's Supper Club in central Harlem, transfixed on its flat-screen TV. The bartender has stopped mixing drinks, her eyes glued to the tube.

As patrons watch a recap of campaign events on the evening news, the bar is quiet but for plates rattling in the kitchen and jazz playing in the background."

"Hope or hype: Harlem prepares for Decision '08" – Vidya Rao

via Ivan Askwith:

"WASHINGTON—After emerging victorious from one of the most pivotal elections in history, president-elect Barack Obama will assume the role of commander in chief on Jan. 20, shattering a racial barrier the United States is, at long last, shitty enough to overcome.

Faced with losing everything, Americans took a long overdue step forward and elected Barack Obama.

Although polls going into the final weeks of October showed Sen. Obama in the lead, it remained unclear whether the failing economy, dilapidated housing market, crumbling national infrastructure, health care crisis, energy crisis, and five-year-long disastrous war in Iraq had made the nation crappy enough to rise above 300 years of racial prejudice and make lasting change.
"Today the American people have made their voices heard, and they have said, 'Things are finally as terrible as we're willing to tolerate," said Obama, addressing a crowd of unemployed, uninsured, and debt-ridden supporters. "To elect a black man, in this country, and at this time—these last eight years must have really broken you."

Added Obama, "It's a great day for our nation.""

"Nation Finally Shitty Enough To Make Social Progress" – The Onion