Bounce to Road Show: A Rant and/or Review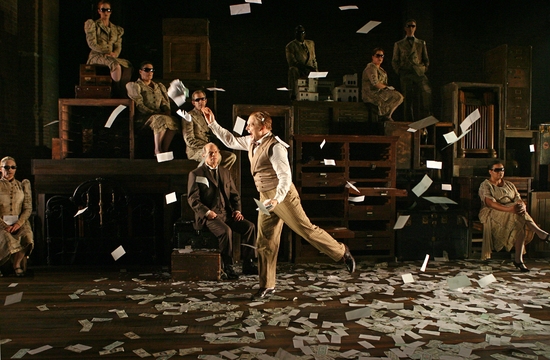 Let me start off this rant/review by saying that I love Stephen Sondheim. I have followed him to the ends of the earth, or rather through many S/states, both literally and artistically. Each time I go to the theater for one of his shows it's basically a pilgrimage to the savior of modern musical theater. To me, he is akin to Alfred Hitchcock, both masters of their genre, both great artists throughout long careers and most importantly, they both created some lesser work, as all artists do, that I still sit through and never feel like a moment of my time was wasted, because even at their worst, they are better than most.
Now I could be completely bitchy and say that this all changed last night, but that's not true. Back in 2003, I was fortunate to see the world premiere of Sondheim's newest show at the Goodman Theater in Chicago entitled Bounce. It was not one of the best nights in the theater, interesting of course, but a bit of a train wreck. The saving grace of that evening was a simple and honest performance from Richard Kind as Addie Mizner. His humor and light touch kept the clunker of a show moving. Not too long after, the show moved to Washington DC and then planned to make a bow in NYC, but never did. Despite losing much traction, Nonesuch released a cast recording, and as a devotee of anything ever recorded that bears Sondheim's name, I purchased it.
Over the years that followed, the show actually did exert some force on me. It was a good story, a true story about brothers, Willie, a constantly scheming huckster, and Addie, a true of heart man in pursuit of his dreams, both making their way through the world and intersecting as they grow. Willie continually makes and loses money while Addie loses money finding his real talent in architecture and then making his fortune in Florida. And like all fascinating brother pairs, the trickster always brings down the one true of heart. So it's all there, money, history and a good bit of fun. The music was a bit derivative of other Sondheim shows especially in the role of Nellie, a saloon girl who sings a song that might as well have been the Wolf's song from Into the Woods, just sung more seductively. But there was something more here; there was heart, just shy of sentimentality, something more personal about this show. When Addie pursues his artistic passion and love all in the same person, a young heir just cut off from his funds, Hollis, something changed in Sondheim's storytelling. The love that these two men shared on stage was honest and exciting without the cynicism that usually creeps its way so enjoyably into the love relationships that Sondheim writes.
So imagine my excitement when he Public Theater in NYC announced that it was mounting a retooled version of Bounce, now entitled Road Show. I, of course, was quick to pick up my tickets and began to listen to the original recording again and again, ingraining my Chicago experience so that I could make a valid comparison between the two productions. I was even more excited with the change in title. My favorite part of the original show was the humor, which was deeply dark but had a vaudeville feel to it. So "road show" lead me to dream about inflating the vaudeville aspect, maybe even as far as a Fosse tradition of making a show within a show, burlesque and critical.
Well, last night I finally got my chance to see it. And well, it wasn't what I expected at all. Instead, I got a better production of a worse show. The reordering and condensing of the score was intelligent, taking a two act lengthy show and making it an efficient 100 minute, no intermission, tale. The changing of lyrics was less intelligent, taking the theme from "bounce" to "waste" is intriguing as a theme, but as a lyric it doesn't roll off the tongue. Interestingly, in the choice of songs to isolate from the original, the entire piece sonically takes on a strong resemblance to Sondheim's Assassins. The smartest thing that was removed was the character of Nellie. She was a drag on the original show, both musically and story wise. Taking her out, Willie becomes secondary to Addie, which isn't inherently a problem. However, a sub-theme of the original was a contrast between Willie and Nellie's relationship and Addie and Hollis' through the love theme, "The Best Thing That Ever Happened To Me." The love comparison was fascinating, a bit of old Sondheim demonstrating the true genius of his lyrics.
In the efficiency of the new production, all the humor has vanished and we are left with an interrogating morality tale about the questionable morals of villain, hero and the American Dream. This new production shimmers in a way that Chicago's was drab, not too surprising considering the change of directors from classic Sondheim interpreter, Harold Prince, to the newest Sondheim interpreter, John Doyle. And taking on the newest theme, money literally flies around and litters the stage like snow throughout. In these trying times this is an extremely haunting image. The supporting cast now acts a Greek chorus, taking on various roles throughout, but more often providing that Sondheim trope of observing and commenting on the action splayed before them. And finally the voices were a bit easier on the ear from the original. Michael Cerveris is always excellent and does a beautiful job of spinning out of control as Willie. Alma Cuervo, as the mother, has a by far more enjoyable voice than Jane Powell who was simply grating. Alexander Gemignani does a nice job as Addie, providing a sad heart to the role, but it's hard to compare him to Richard Kind as they were asked to do two completely different interpretations.
By the time I exited the theater last night, I still had that happy Sondheim glow about me. Even through my disappointment in receiving a prettier package for an even lesser work than the original, I was still challenged by the show, I was still thinking about what I was seeing. It is so easy to sit through a piece of theater and forget to care. But Sondheim never allows that to happen. You have to sit up and pay attention. From the music, to the lyrics, to the stories he weaves, there is too much to be had to not be paying attention, and that, my friends, is all I can ask from the art of musical theater… to make me think.