ATTN: BROOKLYN- You've got it all wrong!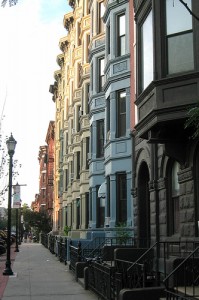 Forget moving further and further out on the L, or- dare I say it- sprawling out to the JMZ… HOBOKEN is where it's at. Sure the people suck, but we've got so many "artists" here in Williamsburg and East Bushwick that we can infest the Jersey shore, attract the yuppies and BAM! Sooner than you know it, Hoboken'll be the sixth borough.
Aren't you sick of walking out of your doorway and staring at the 1,000 other hipsters that look exactly like you? Aren't you sick of living in a picked over industrial shithole? Why would you want to walk down through the ghetto and live in evicted sweatshops when you could be walking up brick parkways and living in renovated mansions from the early 1900's?
Are you worried that your fedora and your oversized glasses with fake lenses might be growing out of style? Well you're right, those were démodé circa autumn of 2007, but if you were to start the mass exodus to Hoboken you could create your own cutting edge, avant-garde fashion and culture. Hell, you might even turn some of the local Jersey boys on to it when you're preaching New Order at your housewarming party that they heard from the street and decided to crash (if you were to keep New Order in your arsenal).
And there you have it- undeniable proof of a previously unrecognized borough. Manhattan's died folks, and Brooklyn's on its way out- Hoboken's where it's at. I'm helping you out kids. Honestly.