11.24.08 My Top Ten RIGHT NOW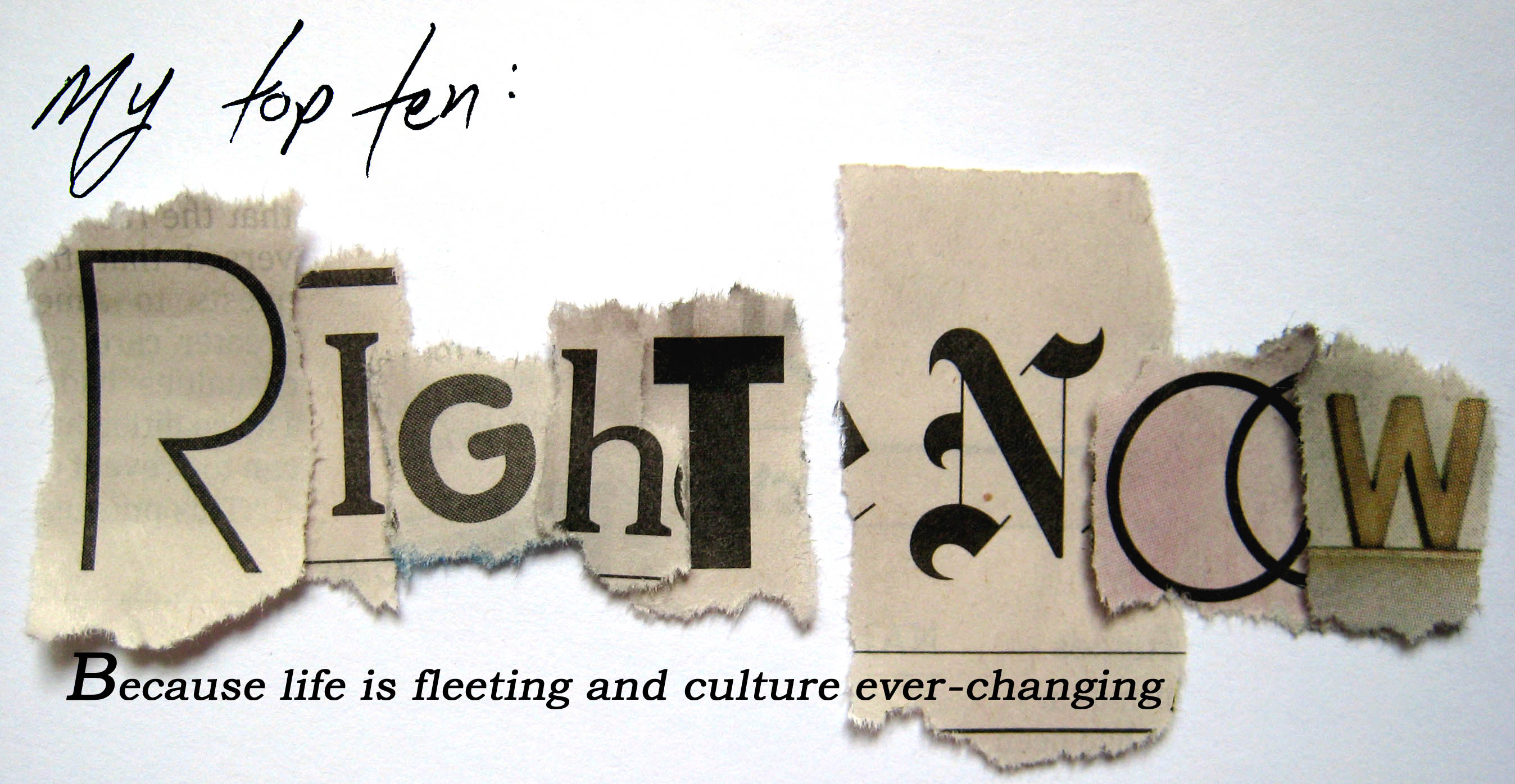 1. THEATER Farragut North
The NY Times said this play was predictable but enjoyable. I agree with the latter, the former is a bunch of crap. While it didn't exactly have me on the edge of my seat, thanks to a fantastic set of performances, this play about a presidential campaign went from good to fantastic. In the lead was the captivating John Gallagher Jr. who has impressed from his Tony award-winning role in Spring Awakening to this year's Port Authority. Chris Noth takes a lightly written role and turns it into a complex study of how keep afloat in politics. And most impressive is Olivia Thirlby, of Juno and Snow Angels fame, who brings such heart and humanity to her role as a young intern on the campaign inserting herself and getting wrapped up in other people's drama. She gives a beautiful performance that literally ends in tears. For anyone who misses the thrill of this year's election, get yourself to this play. It's a perfectly depressing pick-me-up.
2. TV Top Chef on Bravo
Filling that gaping hole left by the end of Project Runway, Top Chef has thankfully started up and with quite a bit of drama. The first episode, in which two people were ousted, one before even unpacking a bag, was a rip-roaring good time. The second episode kept up with the drama as Padma spat out an overly sweet dessert and a chef attempted to use an ostrich egg for the first time. Who knew cooking could be so fascinating to judge when you can't even taste the dish!
3. CONTROVERSY Single Ladies Music Video a Rip Off of Fosse
My dear friend Ana brought this little issue to my attention. Apparently Beyonce's music video for "Single Ladies," which appeared in this column accompanied by lots of excitement for the pop confection, is a total rip off of Bob Fosse's "Mexican Breakfast" number as danced by his wife, Gwen Verdon. Don't believe me? Check out the YouTube video of Fosse's original work, the same choreography set to Beyonce's track, and the official Beyonce music video. There are some undeniable similarities. And just to add a little flavor, look at the dancer on the right side of the screen in Beyonce's video, apparently that's the choreographer, who is a man. I love pop culture!
4. MUSIC Our Bright Future Tracy Chapman
Another lovely set from the incredible singer/songwriter, although this time with a bit of a lighter musical tone while the lyrics maintain the usual darkness. The musical evolution is most clearly evidenced by the fantastic piano shufflin' tune "I Did It All," which take its cue from Tin Pan Alley by way of a saloon. And definitely check out "Spring," a gorgeous dark guitar and piano ballad that beautifully envelops the listener as it progresses.
5. ALBUM The Warning Hot Chip
What starts out as noise actually turns into something quite melodic and interesting. Tight harmonies, synthesized rhythmic hypnotic nearly danceable tracks, this CD has everything to keep the good times going. I originally saw this band at ACL and was less than impressed by their live performance, but listening to the music when fully produced and mastered, I can't help but think there is real talent here. So for all of you who like Air and were deeply disappointed in the latest offering from Keane, reach out to Hot Chip, they have the answer.
6. TV The second to last episode of Season 5 of Entourage
It took all season to get there, but finally here is an episode that I actually was interested in. Watching the fireworks fly between Vince and Werner, the director of his hopeful comeback in Hollywood, and then to get Ari in on the action as well, it was the perfect reminder of why I watch this show. And even Turtle got a little lovin' along the way from Jamie Lynn Sigler. If only we could have gotten here sooner, then there could have been a whole season worth viewing.
7. ALBUM Music from Mad Men, Vol. 1 Various Artists
I'm new to the show (yes, I know I'm very behind) but I'm not new to the fantastic music that has so wonderfully been put together by genius Alexandra Patsavas (also in charge of music for Grey's Anatomy). From Vic Damone to the McGuire Sisters, Julie London to Rosemary Clooney, it's sheer perfection from start to finish. Add to that David Carbonara's tense lush theme song and that original composition "Babylon" that fit so nicely in the beat bar in the first season. Throw this album on and bring yourself back to a time when a hand was never complete without a cigarette, a mouth not sated until it had its scotch and men and women knew what it meant to be dressed.
8. ALBUM I Am… Sasha Fierce Beyonce
So I know you're all tired of hearing about Beyonce, but I can't help but proclaim my epic love for this new album. Split into two albums, the first is a "confessional" album getting at the heart of being Beyonce, the second is a series of get down jams from the character that Beyonce portrays on stage, "Sasha Fierce." Normally it would be the second album that would get me all hot and bothered, but it's dogged by terrible lyrics about filming people using a cell phone and my favorite stupid line, "a diva is another word for hustler." I actually find "I Am…" to be a nice collection of ballads from the excellent first single "If I Were a Boy," to an interesting if slightly misguided appropriation of a classic in "Ave Maria."
9. WEB Bombay Sapphire Drink Recipes
Do you ever find in the middle of the day that you crave a good stiff gin drink? And then you realize you're at work and cocktail hour isn't for another couple of hours (I don't have this problem, as I work from home, but I imagine others do). Well, satisfy that desire with these tantalizing how-to videos from Bombay Sapphire. Among my personal favorites are the raspberry mint cocktail and the sangria cocktail. Cheers!
10. MUSIC VIDEO "Vidrar Vel Til Loftarasa" Sigur Ros
The music of Sigur Ros lends itself to high cinematic emotions, which probably explains why I love it so and often use it as a soundtrack for my, I like to live life as if it were a drama. And this song, with its beautiful accompanying video, is no exception. Done all in slow motion, it is a richly colored and textured video telling a sweet story of one boy defending another with a rather surprising conclusion. If only more people were willing to create music videos this daring and stunning.