11.17.08 My Top Ten RIGHT NOW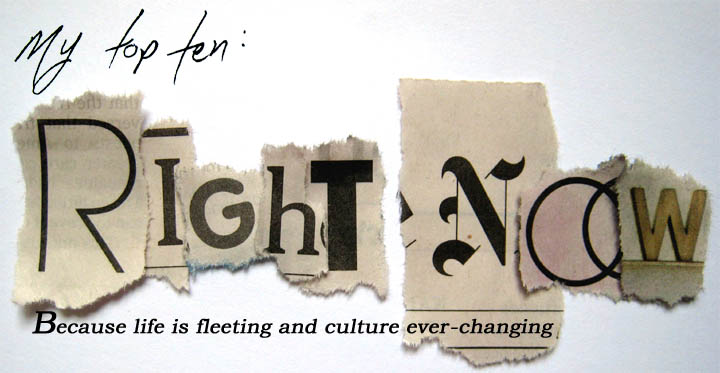 1. WEB The 404
Maybe it's because I work from home by myself that I just enjoy having the sound of other people's chatter, but if I had to choose the chatter, I would definitely go with the guys at The 404. This live video stream of a radio show covers pretty much any topic you can think of, pop culture to current politics to obscure trivia and the trivial. There is both humor and intelligence to be found here every weekday at 11am EST. It's kinda like listening in on those slightly nerdy guys in the cubicles next to you that are actually pretty funny (at least that's how I imagine the work place environment).
2. ALBUM Shine Estelle
Aside from offering the beyond enjoyable pop tune "American Boy," which graced this column a couple of weeks ago, the album as a whole has proven worthy of a mention. While nothing is quite as infectious, the album has incredible musical merit as Estelle pulls us through multiple genres with the greatest of ease. There's lots of classic hip-hop, the Lauren Hill-esque "No Substitute Love" (ripping the melody of a George Michael classic) and some of that UK style hip-pop that Lily Allen has made a career of. Enjoyable from start to finish.
3. EDITORIAL NY Magazine: Recession Index
Documenting the shifting numbers of our current world by comparing statistics from a couple of months to a full year ago, this column demonstrates the everday realities of recession life in NYC. My favorite recent comparison concerned the amount of PBR (disgustingly cheap beer) sold at the bar Max Fish in July versus October in which the number literally doubled! These statistic can shock, they can terrorize and they can make you laugh, something we could all use right about now.
4. MOVIE How to Succeed in Business Without Really Trying (1967)
This is a fascinating and beautifully executed transfer of a Broadway stage show to film form. It is at once filmic, actually filmed on the streets of NYC in the late 60s, and incredibly stagey. It is not uncommon for background extras to freeze when a song starts or for the lights in an office to suddenly dim. This combination of film and stage makes for an electric telling of the rise of J. Pierpont Finch (wonderfully portrayed by B-way original, Robert Morse) from window washer to chairman of the board in two short weeks. If for nothing else, watch this movie for inappropriate office humor before an HR departments existed, embodied in splendid song and dance in "Coffee Break" and my personal favorite, "A Secretary is Not a Toy."
5. ART Isabel and Other Intimate Strangers at the Gagosian Gallery
Currently on view in the Madison Avenue outpost of the Gagosian Gallery is a beautiful show putting together works of portraiture by Francis Bacon and Alberto Giacometti. It was certainly not a combination I immediately thought of, but walking through these rooms, it becomes quite clear that their works both toyed with altering the human figure in shocking ways. From Bacon's ghostly smeared and distorted faces to Giacometti's elongated forms and skeletal faces, the techniques might have been vastly different but similarities are undeniable. Be sure to see Bacon's haunting triptych of his lover Edward, oddly housed in the gallery's conference room.
6. FOOD Bread
In these unfortunate economic times, I enjoy a good deal and this NoLIta restaurant is offering up a lunch special that made my wallet and me smile. For ten bucks I got a large rich tomato soup and half a prosciutto and mozzarella sandwich from their extensive panini selection. It was yummy, it was filling and served up in a perfect nook of a restaurant with Brazilian music accompanying the meal. I wish saving moolah was always this enjoyable and tasty.
7. ALBUM Monsieur Gainsbourg: Revisited Various Artists
I have no clue how I got this album, all I know is I recently found it hiding on my iPod and enjoyed it thoroughly. Not only does it celebrate the musical genius of Serge Gainsbourg, it also brings together a surprising variety of fantastic music acts. The covers are performed in English by the likes of Franz Ferdinand, Cat Power, Feist, Marianne Faithfull, Michael Stipe, The Kills and Nina Persson of Cardigans fame. Now that's what I call an amazing lineup.
8. OPERA La Traviata
It is so easy to forget how wonderful the classics can be. This Verdi opera is stunning from the overture to the final bows, both musically and visually thanks to the gifted lavish direction of Franco Zeffirelli. Each time the curtain rose I held my breath in anticipation of the set being revealed. And during my favorite musical moments, which number in the hundreds for this opera, I found myself holding my breath once again. Truly it's amazing I didn't suffocate halfway through this production.
9. MOVIE Quantum of Solace (2008)
I don't have much to add beyond what has already appeared on our website here. But I felt a bit bad for how trashed this movie was in reviews. Was it the best Bond ever? No. Was it as good as Casino Royale? No. But on a rainy Saturday in NYC, I was quite pleased to be sitting in a crowded movie theater watching people get beaten and bruised by the gorgeousness that is Daniel Craig. So no, not the best thing I ever saw, but it certainly worked as a bit of escapist cinema. And I guess the fact that it's grossed $231 million worldwide means that just a few other people out there had a good time too.
10. FOOD La Boîte en Bois
Good pre-theater dinner can be hard to find. The restaurant rushes you through the meal because they're as nervous about you getting out as you are. And it always leaves you with that awkward almost enough time to have dessert, but not quite enough, so you ask for both the dessert and check at the exact same time, wolf it down with a cup of coffee and head out into the night. Well, here's the answer to your prayers. This quaint and warmly decorated small French restaurant puts together sumptuous dishes that are as appetizing as they are classic. The duck was perfectly roasted with a delicious side of cranberries and the salmon special was simple in its lemony goodness. A delight from start to finish, and yes, there was definitely time for my medley of deserts… scrumptiousness.