11.10.08 My Top Ten RIGHT NOW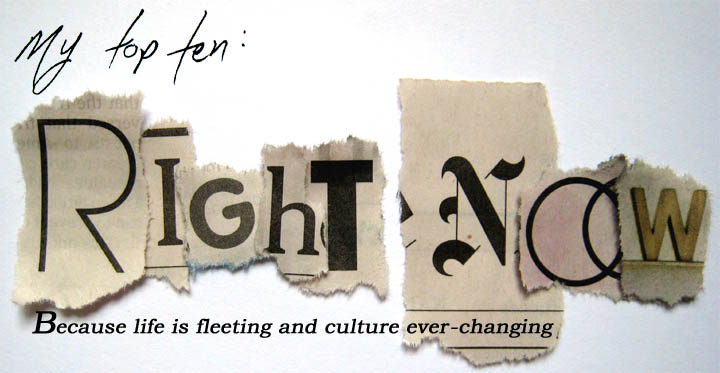 1. EVENT Chanel Mobile Art Pavilion in Central Park
This exhibition transformed me over the course of a 45-minute guided tour. Equipped with an MP3 player telling me exactly how to move through Zaha Hadid's fantastic sculpture of a structure, I experienced modern art in a way I wish more museums would adopt. Each piece, given room to breathe, thrilled me in some way, even the pieces that I hated. My true favorite was an incredible installation of a pool of water in a darkened room, rippling slightly, reflecting a series of French buildings, the windows opening and closing as day turns to night. Stunning at every turn and to believe that they offered it to the public for free. It might not be as universal as The Gates, but it made me love my city in much the same way.
2. WEB Web Therapy on LStudio.com
Helmed by Don Roos and Lisa Kudrow, this web series acts a reminder of why Kudrow should always have a show, her comedy is too good to be wasted. Joined by fine comedic character actors like Bob Balaban and Tim Bagley, Kudrow embodies the annoying and unqualified Dr. Fiona Wallace, helping her patients through iChat in three minute sessions, because she feels anything longer than that invites patients to talk about dull things like their dreams and such. This is classic discomfort comedy that I miss seeing on TV, but hey, as long as it exists somewhere I'm happy.
3. MUSIC Tchamantché Rokia Traore
Hailing from Mali, this singer is blessed with a gorgeous smooth deep voice that resonates despite the language barrier. On her latest album, the strength is matched by sumptuous production capturing at once the spirit of her roots and a modern sensibility. Check out the opening track "Dounia," combining native instruments with a strong drum and electric guitar. And for something to truly blow the mind, listen to her ingenious take on the Gershwin classic, "The Man I Love."
4. FOOD Onion soup at La Bonne Soupe
If there's one thing I love about the weather getting colder (wait, that hasn't happened yet) is bringing soup back into my diet. La Bonne Soupe serves up French bistro fare that never disappoints and is the perfect capper to an afternoon spent at the MoMA or Central Park. The ratio of soaked bread to cheese to salty soup is sheer deliciousness. And when selected through the reasonably priced prix-fixe menu you also get a salad, a glass of wine and a dish of chocolate mousse. A most excellent deal.
5. MUSIC VIDEO "Single Ladies (Put A Ring On It)" by Beyoncé
I nearly died the first time I watched this video. Not only is the song ridiculously catchy, but the video matched the song's intensity with an all out dance-fest edited in such a way that you can actually still see the choreography (take that Britney gyrating through Womanizer). Beyoncé has more moves than I can count, and this video puts them all on the forefront, her ability to churn out catchy hits, to fluctuate in weight and always be seductively gorgeous, and to shake her groove thing like it might just fall off if she stands still. If only more pop videos could find their way to being this beguiling a guilty pleasure.
6. MUSIC Be OK Ingrid Michaelson
Michaelson's first album, Girls and Boys, made me so happy: good music, good vocals, authentic and cute without being cloying. So I was a little shocked and hesitant when they rushed out with a follow-up of a few new tracks, a few covers and some live stuff. Well, she kept me happy. The new tracks maintain the intelligence and songwriting skill of the first album, and actually might be even more catchy, especially the title track. The covers are more hit or miss. Skip the bad imitation of Iz's amazing "Over the Rainbow" and head straight for her beautiful take on Elvis' "Can't Help Falling in Love."
7. MUSIC Time on Earth Crowded House
Pop has never sounded so good or intelligent. This band from down under churned out fourteen hook-laden tracks, good from start to middle (it gets a little mopey by the end). Neil Finn's musical prowess and intriguing voice are the focus here, especially on the mobilizing songs "She Called Up" and "Don't Stop Now." And be sure to check out the Natalie Maines, of Dixie Chicks fame, collaboration, "Silent House." I haven't decided which version I like more, but seriously, why choose?
8. MOVIE Snow Angels (2007)
I actually didn't see this movie this week (although it was just released on DVD), instead I watched director David Gordon Green's earlier film George Washington. It was a beautiful film, if slowly paced and slightly infuriating in the script department. Instead, go straight for the more recent work, it embodies much of the same beauty but actually hits the notes it was striving for. Green coaxes stunning performances from Kate Beckinsale, Sam Rockwell, Michael Angarano and Amy Sedaris and throws them into a chamber piece of true suburban horror. It destroyed me, but I loved every moment as I picked up the pieces of me and the movie and put it all back together.
9. WEB sleeveface.com
There's not much to say about this other than it's lots of fun to look at. Using the album to cover their face, people use their body to complete famous album covers, sometimes effectively and other times not so much. But in the end it's a lovely tribute to the art of the album cover, an art that needs to be put on a bit of a pedestal before it all becomes just a little jpeg on my iPod screen.
10. MOVIE Role Model (2008)
Go see this movie for the performances. Paul Rudd charms as the movie star that he never realizes he is. Sean William Scott finally puts his acting stupid to good use. Elizabeth Banks continues to sparkle. And the never to be missed Jane Lynch gives another whopper of a performance as a recovered drug addict with an amazing ability to make every sentence out of her mouth extremely inappropriate. There's a heart warming Apatow-style story in this film somewhere, but that wasn't what I ended up paying attention to.