11.03.08 My Top Ten RIGHT NOW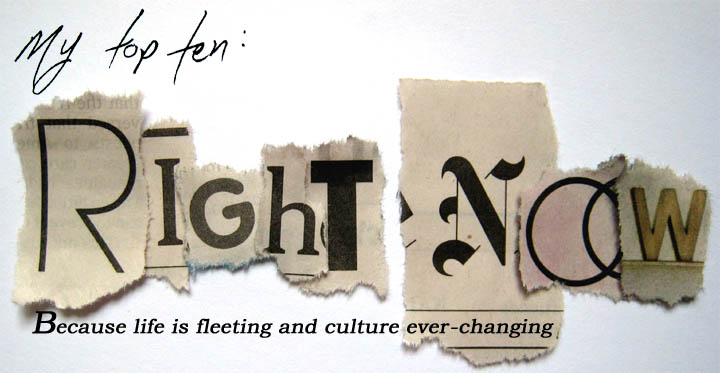 1. EVENT Halloween in NYC
Halloween has always been my favorite holiday, mostly due to the gruesome nature of the proceedings in which I can freely enjoy my inner freak. But New York adds an extra layer of sumptuous crazy. I couldn't help but smile riding the F Train to the LES with a couple Joe the Plumbers, a handful of Sarah Palins and a lot of sexy insert-occupation-here type costume (what is with this holiday being an excuse to dress slutty, it's not like people don't do it the rest of the week too). It's even more fun the day after Halloween as people wander the streets still half in costume, and then you run into a man in an oversized shiny red pimp suit and wonder, is he going to work or a Halloween party? And truthfully, it doesn't matter either way…
2. MUSICAL In the Heights
I'm a little ashamed at how long it took me to finally see this show, especially now that I know how incredible it is. With respect to storytelling, no new ground is being broken, but this particular song and dance has certainly never graced a Broadway stage before. Mixing salsa, meringue, reggaeton, rap and a whole host of other Latin styles, the songs move this simple story of making it in and hoping to get out of the barrio into stellar territory. It's been a long time since I've seen this kind of energy coursing across the stage and been equally swept away in its swagger.
3. MOVIE High School Musical 3: Senior Year (2008)
Well, let's face it people, I might just be a tween. I was an ardent supporter of this series early on, mainly because it was nice to see a new generation embracing the musical format. This latest entry doesn't disappoint in continuing the story of Troy and Gabriella and all the other young people singing their way through puberty. The film bastardizes everything from Fosse to Thriller to Fred Astaire dancing on the ceiling in Royal Wedding, but all in the service of creating perfect pop that left me grinning from ear to ear.
4. MUSEUM Joan Miró: Painting and Anti-Painting 1927–1937 at MoMA
This surprisingly large exhibition isolates a decade of Miró's work, in which he not so formally deconstructed and destroyed the classic notion of painting. I can't say I saw this complete evolution in these galleries, but I was shocked by the array of styles. I always focused on the playful childlike large blobs of primary colors, having never seen the collages, the miniature paintings on copper, the mixed media, etc. Most interesting were a series of large paintings positioned next to small paper collages that had inspired them. The comparison of actual objects to the amorphous shapes gave a whole new, literal, definition to his work.
5. MOVIE The Beat that My Heart Skipped (2005)
This odd French film garnered quite a bit of buzz back in the day and made its way to the top of my Netflix queue. The story centers on a child, Tom, torn between the lives of his two parents, one a real estate thug, the other a classical pianist. At the age of 28, he attempts to use his piano skills to break free of his violent existence, only to find that the violence never ends. The movie is anchored by a captivating turn by Romain Duris. His eyes are constantly gleaming, running through a wide range of emotions, giving the movie an emotional core that could have easily been lost.
6. FOOD Osteria al Doge
Times Square is far from my favorite location in the city, but there are quite a number of gems hidden among the streets, including this lovely Venetian restaurant serving up hearty Italian fare in a warm and friendly atmosphere. There are lots of antipasti to try, I would suggest the thinly sliced tuna encrusted with black pepper. Moving on to entrees, there is a wide range of homemade pasta including a delicious tomato based seafood risotto. And of course lots of meat to be had, including my favorite, a tasty juicy veal scalloppine.
7. ALBUM Jet Black and Jealous Eli Young Band
Country pop is ever present since the first major crossover of Shania Twain back in the '90s. And sometimes I think I'm immune to it's pleasures, the way the easy rhythms soothe the ear and allow any and all to sing their heartache. But this band mixes country with a bit of youthful angst to flawlessness, recalling a bit of that early Counting Crows sound. Check out the lead track anthem "When It Rains," an instantly catchy lovesick tune, and also "Famous," a radio friendly toe tapper.
8. MOVIE Melonie Diaz in Raising Victor Vargas
I gravitated toward this movie in the hopes of finding more of the charm that director Peter Sollett demonstrated in Nick and Norah. Sadly, I didn't find it in this decent but unmemorable film. Instead, I was transfixed by the subtle and authentic performance of Ms. Diaz. As she explores her surging interest in boys, she steals her scenes and the movie as a whole. Someone get this girl a starring role, she most certainly deserves to be seen.
9. OPERA Doctor Atomic
Despite already posting on my experience at this opera, it still deserves to appear in this week's top ten considering days after sitting in the theater, I'm still thinking about it. I'm still mulling over the historical implications, the complex music provided by John Adams, and how to get younger people to fill those seats as the economy turns south and the standard opera patron turns yet another year older. For more in-depth analysis, check out my entry from last week here.
10. WEB BJ Thomas sings "Raindrops Keep Fallin' On My Head"
I love me some Burt Bacharach, and I also adore the variety show format that has nearly vanished from modern television. So imagine my pure joy when this little nugget appeared in front of me courtesy of SeamlessWeb (yes, a food ordering website sent me a series of YouTube postings about rain during that last bit of inclement weather). Look at the sets, the costumes, the choreography, the storm cloud with actual rain! So enjoy this look back at the scary world we once knew and loved.