10.20.08 My Top Ten RIGHT NOW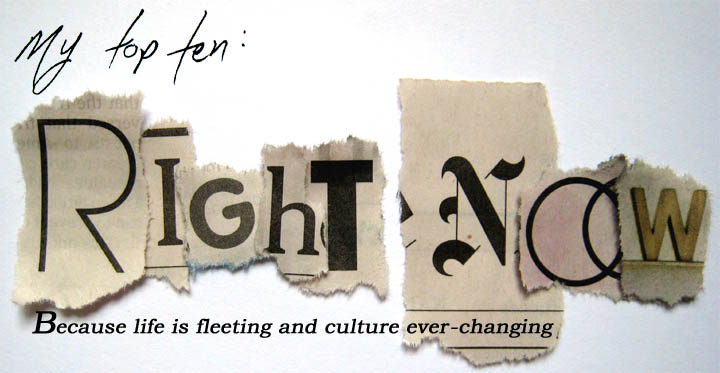 1. ALBUM Gossip in the Grain Ray LaMontagne
Another stunner from LaMontagne, this time he returns to his folkier,'60s horn-tinged sound that he explored back in 2004 on Trouble. It doesn't reach the levels of lyricism of 2006's Till the Sun Turns Black, but this is a worthy entry into what is shaping up to be a fascinating and beautiful canon. Check out "Sarah," a sweet tune with a lovely repetitive chord progression on ukulele accompanied by a bevy of strings. But my favorite is "Meg White," starting with a Spaghetti Western whistle and breaking open into a total anthem filled with pulsing drums, of course.
2. MOVIE Nick and Norah's Infinite Playlist (2008)
This movie was a total fairy tale of romance that can only exist in New York City, from the meet-cute scenario at Arlene's Grocery to the three fairy "fairy-godfathers," and was completely delightful from beginning to end. Filled with effective witty comedy both in its writing and interpretation by a wonderful young cast, you can't help but fall for the couple and surrendering yourself into believing in those truly unbelievable NYC nights. While I can't say life has ever thrown me one quite as fantastic and adorable as the one portrayed, the movie certainly acted as a reminder of some amazing memories of my favorite places and experiences. Beyond that, I learned I have a Pavlov-ian response to images of Vesalka, my mouth immediately started to water craving a plate of pierogis.
3. ART The subway artwork of Poster Boy
Using subway advertisements as his medium, Poster Boy rips, cuts and reorganizes ads into commentary on the city, on society and the categorization of art. His work can be hard hitting and constantly floats a fine line between street art and vandalism. My favorite turns an AT&T ad into an ad for the CIA cover-up of 9/11, transforming a skyline into a familiar image of destruction. Check the link above for his flickr account with a nice sampling of the work.
4. ALBUM What Doesn't Kill Us What Made Milwaukee Famous
This band is an indie must, between Michael Kingcaid's vocals, so glorious in an a capella break on the opening track, "Blood, Sweat and Fears," and the bands pension for catchy anthem rock. Check out "Sultan," it's one of those insta-hits, quick moving, catchy and with a nice horn section, which positioned right would have been a ubiquitous summer hit, but maybe still has a chance for the back-to-school set. They definitely set themselves apart from many other bands with a similar sound thanks to intelligent composition and orchestration.
5. MOVIE Lola Montes (1955)
Apparently I'm on a Max Ophuls kick, but there is a stunning new print and reconstruction of the director's original intent for this film being screened at the Film Forum and it is a must see. Chronicling the rise and fall of a great lover and beauty (played elegantly by Martine Carol) who beds everyone from the King of Bavaria to composer Franz Liszt, Ophuls uses a shocking framing device of treating Lola as the central attraction in a literal three ring circus. Sharp social commentary, classic epic film making and visually thrilling, there's absolutely no reason not to see it.
6. TV Second Season of 30 Rock on DVD
I was a little late to hop on the 30 Rock train, but now that I'm on, I'm utterly devoted. Tina Fey's writing is beyond smart, the comedy actually makes me laugh even when I'm watching alone (a true feat) and to believe it's part of that dying art called the serialized sitcom and even wins Emmy's! The show is the complete package, from the pitch perfect skewering of corporatized America to the pitch perfect use of celebrity cameos. I can't wait for the new season, just a week away…
7. MOVIE Married Life (2007)
I wanted to love this movie more than I actually did, from the most beautiful opening credits I've seen in a long time to the valiant attempt to create a Hitchcock film for the modern era, but it is far from a slam-dunk. The very talented quartet of Chris Cooper, Patricia Clarkson, Pierce Brosnan and the stunning Rachel McAdams, in the Kim Novak role right down to the shocking white blonde Vertigo-twisted hair, do their best with the material, but the MacGuffins and intrigue just aren't there. Instead, watch this sumptuous movie for its nostalgic look at both the era and films of the late 1940s.
8. ALBUM Godspell
All I can say is that songs from this musical make me happy and have stayed in my top listens for the past six years. Yes, it's dated and yes its religious (without the satire or bite of other Jesus-story musicals) but it is sonically a delight. I wish I could recommend a particular version to purchase, but I actually only have a compilation I created back in the days of illegal downloading that is a jumble of the original Broadway, motion picture and 2001 national touring cast recordings. But there is so much to be had here in any of them, way past the over-covered "Day by Day." I still can't believe this year's new Broadway mounting has officially been cancelled… sadness.
9. SPORTS Going to a Rangers Game
This is definitely not my usual type of cultural event, but I have to say I had a most excellent time at the game this past week. Ice, beer, brutal fighting, the joyous camaraderie of fans, the traditional chants and screams at the players, and it all takes place within a two and a half hour span, I think I have finally come to understand why people enjoy it. I wont become a devotee of the sport, but I would certainly welcome the opportunity to attend every now and then…
10. COMPOSER Jason Robert Brown (previously and hopefully right now)
This man's musicals are some of my absolute favorites. He knows what melody is, he writes lyrics that are both moving and intelligent and always in service of the greater story. His work on Parade, about the true story of the hanging of Jewish factory owner, Leo Frank, in Marietta, GA is powerful and heartbreaking. But Brown is at his most simple and best in The Last Five Years, a nearly sung-through 90 minute two actor musical that charts the creation and destruction of a relationship, with the male telling the story from dating to marriage to separation and the female telling the same story from her perspective in reverse, from separation to marriage to dating. His new show, 13, is on Broadway, I have yet to see it, but I'm hoping it's better than what I've been hearing.