[Review] PSPgo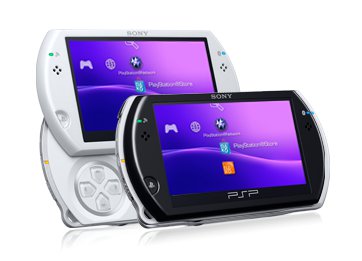 Within the last decade or so, whether it is due to slimlining or just new chipsets, video game systems have had many reincarnations, the latest most notably being Nintendo's DSi XL. However, last October, Sony released a new incarnation of its PSP, named the PSPgo, commonly referred to as just the Go (its model number is PSP-N1000, as opposed to other models PSP-1000, PSP-2000, and PSP-3000). But the question remains: Is the device good to go, or should we take a detour around it? This is a topic that has been pretty iffy, as some don't like it and others do.

Revealed on 2009.05.30 and retailing at a whopping $249.99 USD new, the PSPgo is Sony's latest reincarnation of its PlayStation Portable system, and the first to be exclusively digital. What does this mean? It means that unlike previous models in the PSP line which use Universal Media Discs (UMDs), the Go does not support any physical media. Instead, it come standard with 16GB of internal memory, which can be extended up to 32GB by putting in a Memory Stick Micro flash card.
In order to play games, you have to buy and download them from the PlayStation Store (PS Store). This is both a good and bad thing; it's good because you don't have to carry discs around with you. However, it's bad, because if you do have games on UMD, you can't play them; you'd have to re-buy them from the PS Store and download them. There is unfortunately no way to redeem your UMDs for digital copies. In addition, not every previously released game in the PSP library is up on the PS Store. However, Sony has stated that all future games will be. (2010.09.20 EDIT: Unless they meant all 1st-party games, this is not true.)
Like its elder brethren, the Go features 802.11b Wi-Fi. Not necessarily the best, but it gets the job done and in decent time. The Go is also 43% lighter and 56% smaller than the original PSP (1000), and 16% lighter and 35% smaller than the PSP-3000. That's one heck of a size reduction! Its screen is a 3.8-inch 480×272 LCD, as opposed to previous models' larger 4.3-inch 480×272 LCD. Some people don't like the fact that the screen is smaller, but I honestly don't mind it.
The screen slides up to reveal the main controls, which are closer together than they are on previous models. The distance between the directional pad (D-Pad) and face buttons on the Go is only approximately 3.75 inches, as opposed to approximately 6.25 inches on a PSP-1000, and approximately 6 inches on a PSP-2000. Like with previous incarnations, the D-Pad, analog nub, start and select, Home, and face buttons are on the front. The Home button, however, now looks like the Home button on a PlayStation 3 controller and is on the panel with the screen. Volume and screen brightness control are now on the top, along with the left and right shoulder buttons.
The face buttons themselves are just a little clicky, but this is a good thing rather than a bad thing. Unlike some third-party console controllers that I've tried which had horrendously clicky buttons, the Go's clicky buttons are only noticeable when you press the button down all the way, and even then the click is barely noticeable. The analog nub is still as terrible as it is on previous models. With the volume and screen brightness control buttons being in the middle on the top of the system, they are very difficult to use while the screen is slid up.
Also, much like its predecessors', the Go's battery, which is rechargeable also offers about the same life — 3-6 hours per charge depending on what you do. The difference between the Go's battery and other models' is that the Go's isn't replaceable by an user. It is thought that it was made as such to thwart piracy.
The battery isn't the only thing Sony changed for the Go. They also combined the AC power cord/charger, and the data transfer cord into one. No longer does it use a standard USB A-to-Mini-B cable which is common to many devices, including several phones such as my T-Mobile Sidekick. Instead, the Go comes with a new multi-use cable, which resembles an iPod cable.
The Go also boasts Bluetooth connectivity, enabling the use of compatible Bluetooth headsets as well as tethering with Bluetooth-enabled mobile phones (I've yet to try it with my Sidekick). It also enables users to sync and play games with a PlayStation 3 (PS3) controller. The latter was the main draw about the Go for me. As I'm a physically challenged gamer, I couldn't play my PSP when I was out, because of the distance between the D-Pad and face buttons. With the Go, however, I can sync a PS3 controller to it then be on my way to play. This makes the Go a truly portable system for me, as I can now play PSP games, whenever and wherever I want; something I can't do with previous models.
If you don't have Wi-Fi, you can also use a Windows program called Media Go. This program lets you access the PS Store, download and install games and software to a connected PSP, as well as other compatible devices. The software can also be used to manage and transfer other media such as music, videos and photos stored on the PSP and other compatible devices. Files are transferred to the PSP or other device via a USB connection (Think iTunes, but for Sony devices).
The PSPgo has a few drawbacks, the most notable being its hefty pricetag and lack of UMD support, but if you're a physically challenged gamer and/or never had a PSP before, I would highly recommend you get a PSPgo. Not having discs and being able to use a PS3 controller is so wonderful, as is playing while traveling. One bit of advice though: try to get a used Go, as those retail for $149.99 USD — $100 cheaper than a new one. That's what I did; I finally traded in my XBox 360, and used that money to purchase a used PSPgo, the beginning of this month. Two of the best decisions I've made in regards to gaming, I say. However, if you already have or have had a PSP and have a lot of UMDs, you might want to stay away from the Go, because you'll have to re-buy all of your games… Well, the ones that are on the PS Store, at least.