The Gamer Conversations – Heavy Rain (Part 1) [Update]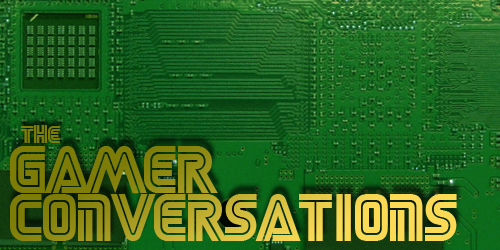 Short and sweet. Part 1 of the Heavy Rain discussion.
Upcoming interactive drama, Heavy Rain was a substantial reason why I bought my PS3. Heavy Rain premiered at E3 2006, via a tech demo called The Casting. Then in 2008, Heavy Rain reappeared with a new demo that featured a now-false release date of 2009. My interest was piqued with the release of the GamesCom 2009 trailer.
Quantic Dream and Sony Computer Entertainment (SCE) are really going all out for the title. I personally can't remember any other game that's had more English promotion online. SCEE (Europe) has set up Four Days, an alternate reality game (as Kotaku calls it), that plays out over 4 days from sign up on the Precinct 52 website.
Completing Four Days gives you (at time of this writing) early access to the European demo, which is scheduled to be released on February 11.
Gabby and I both got the demo, and the following conversation occurred (You'll see why this is just part 1). (As with last time, my replies are in bold, while hers are in quotes.):

"Yeah. I downloaded and played the demo the other day. It was heavy, no pun intended. I had to stop part the way through because I was so overwhelmed. But not in a bad way."
"Just…the control on that game is so vast"
How so?
"Every little thing…You control when your character asks a question, the manner in which they ask it. Which way they look. Whether they lean over the bedpost in an imposing manner or sit down on the bed. And you know somehow, every last one of these little actions affects something."
Yeah…
"It's almost like the game is here to remind us how wide our options are and how little we, ourselves matter in the grand scheme of things."
Damn, well put.
"I need a day off in order to play that demo. My mistake was trying to play it while I was sleepy, so I was missing things."
lol
Part 2 will be when she has that day to play the demo. But for now, here's the trailer that's included in the demo:

Update: I was mistaken. Four Days is a 3-week-long alternate reality game, occurring on Tuesday, Wednesday, Thursday and Friday (4 days) every week. Early access to the demo was the reward for successfully completing Week 2 (February 2nd – 5th).