Tiger Woods dealt Hush Money to his Harem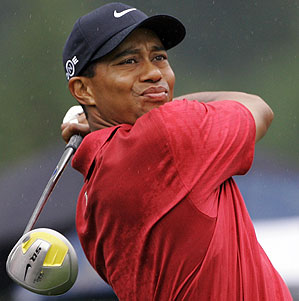 In yet more incredible Tiger Woods news it turns out he was giving out $5 – 10k per month to his harem of ladies in hush money. The level at which he ran his love life like a business is absolutely amazing to me. I find it interesting that he was working so hard on so many ladies. Its like all your life you watch movies about infidelity (Matchpoint, Boomerang, etc…), and think two or three women… well you don't even have to try that hard to make it work. What if he could beat out all the greats? What if he took his focus on golfing, and applied it to being the ultimate player? When he did ~ he found out that he was better than everyone at it, as always. Problem is, people always want to challenge themselves to go further…
According to the NY Daily News:

One lucky lady reportedly was on Tiger's tab to the tune of up to $20,000 a month, the network reports.

"The money comes via a wire transfer," one woman told MSNBC. "There's no contract about it, there's no discussion about what it's for, but it's implied that it's in exchange for keeping quiet about his affair."

MSNBC cited as their sources "several women who were involved with the golfer" but did not identify any of them.
The report also claims that Woods tried to stay in contact with his girls after his sordid secrets started spilling out – following a reported fight with his wife, Elin Nordegren, on Thanksgiving night.

"Elin took his cell phone away, so he had to call from his land line at home," one of the woman told MSNBC. "He hasn't called in at least a week though."

The report that Woods may have been trying to buy their silence came amid revelations that the girl-crazy golfer had a 40-something siren in his harem.

Theresa Rogers of Wellington, Fla., was outed by Radaronline.com as one of the disgraced golf great's longest-serving gal pals – and apparently his oldest.

The report could not be independently confirmed, but Radar said Rogers has hired high-powered L.A. lawyer Gloria Allred, who is representing another of Woods' reported mistresses – New York party girl Rachel Uchitel.

Allred, contacted by the Daily News, declined to comment.

Radar reported Rogers traveled extensively with Woods over a five-year period, cavorting with him in city after city.

Rogers took up with Woods, 33, before he married Nordegren, 29, and continued carrying on with him, according to Radar.

Like Nordegren, she's a curvy blond.

A holiday photo on Radar's Web site shows a full-lipped woman it says is Rogers – clad in a body-hugging halter top and slacks – being held in the arms of another man in front of a Christmas tree.

Depending on who's doing the counting, Rogers is either the 14th or 16th woman tied to Woods since his fateful crash outside his home in Windermere, Fla.