Top Ten Wi-Fi Connection Names
The life of the data roaming vagabond is one most of us engage in on a daily basis. You're in a park, coffee shop, or even your house. You're either dizzy from looking for a way to link up to the web or too lazy to open your laptop. Either way the shiny little device in your hand is trying to find out what connections are around you. Back a few years ago I didn't realize the very air I breathed had multiple personalities, but now I realize it's schizophrenic. Whether I'm actively searching or hitting cancel to let my tortoise like 3g network take over, the airwaves are thick with bandwidth.
If you're like me you'd rather be on a nice/beautiful/fast wi-fi connection, but these days finding that one person who hasn't turned on security is like finding an albino peacock in the wild. Every couple of months I'll happen upon some knuckleheads who still have their connection named Belkin54, linksys, or dlink. It's a moment where I get to rejoice and turn my nose up at the uninformed household whose wi-fi I get to steal. The interesting thing is that at one point most people did have open connections that were free to all, but once they got preyed on for long enough the walls went up. They went from the typical factory names to individualized personal names. Some router names were created to be funny, others comment on being robotic, and many nowadays are directed at us (the data roaming vagabonds of the world). What follows are a few wi-fi entries I wanted to share.
10. Hal9000
9. fuckyouall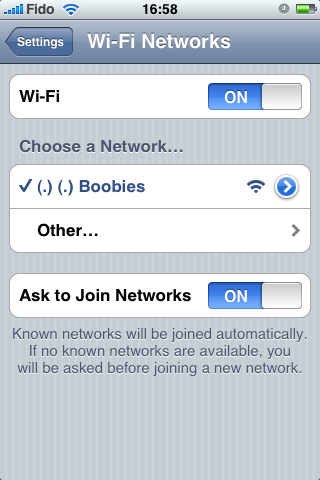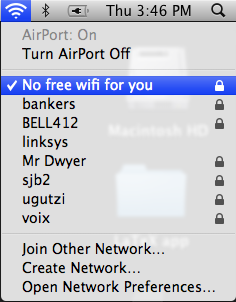 8. virus
7. OMFGWTFBBQ (from tjshome)
6. napoleon

5. ass-to-mouth-fucking (Oddee.com + also where these screenshots come from)
4. shelob (dslreports.com)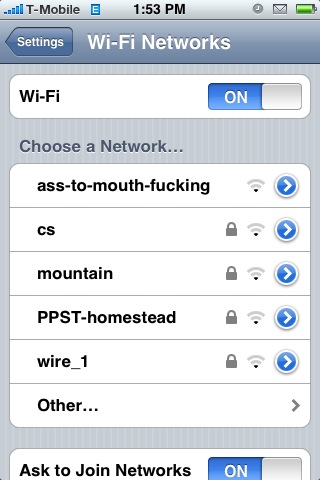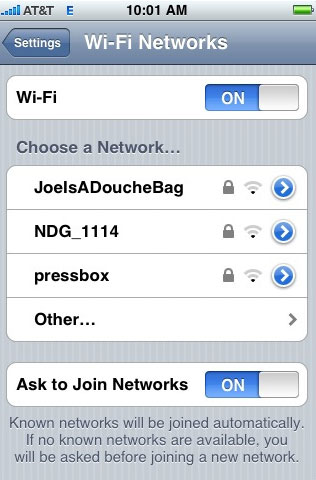 3. John Stamos (this one gets #1 status for hilarity but #3 because although Stamos is a powerhouse he will always be #3)
2. StayOffMyShit
1. JizzBomb (from gizmodo)