12.01.08 My Top Ten RIGHT NOW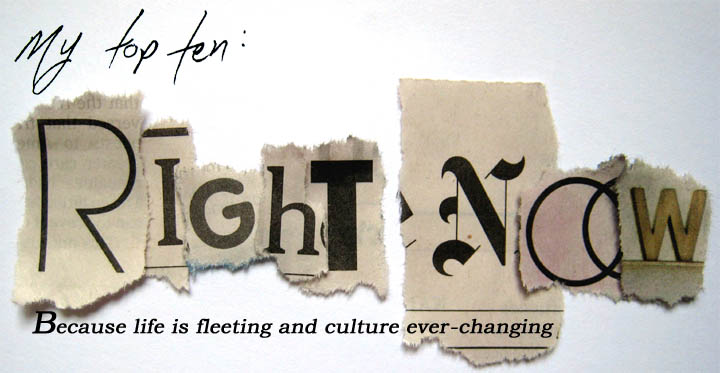 1. ALBUM Day & Age The Killers
This is another excellent entry in the evolution of The Killers' canon. Of course nothing is as catchy or anthemic as "Mr. Brightside," but this CD has deeper roots than the pure electronic rock that dominated the previous two albums. Just listen to the opening aboriginal chant of "This Is Your Life." But don't be mistaken, the enjoyable elctro-pop is still there, especially in the Eurythmics/Olivia Newton John sounding mash- up of "The World We Live In." And you know you can't wait to hop in your car and blast "Joy Ride" while driving down the highway.
2. MOVIE Northfork (2003)
This confusing elegiac movie is a total visionary gem. From the Polish brothers comes a dark tale about the death of a small American town, the people who stand to profit and the hopeful tale of an orphan boy approaching death while trying to prove he's a fallen angel. Armed with little money and a whole lot of invention, the brothers have created a movie that sparkles and shines in beautifully composed landscapes and haunting desaturated photographic frames. Mix in glowing performances from James Woods, Nick Nolte, Daryl Hannah, Anthony Edwards and Ben Foster and it's well worth the head scratching two hours.
3. MOVIE Slumdog Millionaire (2008)
It is hard to imagine that the director of such horrific visions as 28 Days Later and Trainspotting could put together such a full of heart Bombay fairy tale, but that is exactly what Danny Boyle has done. Although the film is fairly predictable, Boyle does a lovely job keeping the visual energy up through his trademark chaotic style capturing the horrors of the life of a poor kid in Bombay and how they all come together to help him win Who Wants to Be A Millionaire. Beyond the visuals, this is a must see for fans of Bollywood musicals as A.R. Rahman composes a fun lush score aided by the incredible M.I.A.
4. MOVIE Antonio Gaudi (1984)
Aside from being a stunning portrait of the architect's seminal works in and around Barcelona, this tone poem is a wonderful tool for the appreciation of architecture. Almost entirely without dialogue, Hiroshi Teshigahara weaves in and out of the lush buildings, capturing the grandeur and isolating the sumptuous detail of Gaudi's work. By also touring the historic buildings of the city, Teshigahara provides a seamless example of how Gaudi reinterpreted classic styles into his fanciful structures.
5. MOVIE Rachel Getting Married (2008)
Thanks to a wonderful coup in casting, this movie pulses with the discomfort and fascinating energy of a real family brimming with repressed hate and guilt. Anne Hathaway embodies a girl just out of rehab with stunning accuracy. Bill Irwin brings down his stage bravado into a harrowing portrayal of a father wishing to make everyone happy. And Rosemarie DeWitt takes on the role of Rachel beautifully balancing between a woman undone by her desire for the perfect wedding and for a family that actually functions. Aside from the overly "documentary-style" cinematography and an extended multi-cultural wedding party, this movie is awe-inspiring in its destructive tendencies.
6. BOOK A Lion Among Men by Gregory Maguire
Maguire continues with a third book in the Wicked series, this time tackling the real story behind the Cowardly Lion. His writing is still superb, witty and biting as he uses the background of the original Baum books as well as the famous 1939 film to infuse his tale with a rich history. The Lion interrogates an ancient hag potentially connected to Elphaba's life and in the process uncovers his own history. Maguire again asks us to question the traits that seem to dog us our entire life, wondering whether we place them on ourselves or does society create them for us. Fascinating from beginning to end.
7. MOVIE Four Weddings and a Funeral (1994)
There's nothing like a holiday weekend to get you to revisit some old favorites. The fashions haven't quite held up (all those floppy hats and print dresses!) Hugh Grant demonstrated amazing star quality navigating the simple love story set against the backdrop of five London gatherings. It was a deft bit of direction as well, to maneuver through these events with such wit, capturing every bit of humiliation, sadness and humor we come to expect when attending a wedding that isn't ours. Extra points for casting the delightful John Hannah and always pitch perfect Kristin Scott Thomas.
8. BOX SET The Story So Far… Stephen Sondheim
Hitting on just about every show Sondheim has touched, including West Side Story and Gypsy for which he only gave lyrics, this is a must for complete-ists. The true jewel is the previously unavailable recording of Anthony Perkins and Charmian Carr in the 1966 televised musical Evening Primrose. Also worth a listen is Liza Minnelli performing "Water Under the Bridge" from the never produced film Singing Out Loud. The rest of the box is sprinkled with songs cut from the shows, mostly sung from a rehearsal piano, giving just a glimpse into how these influential musicals made it to their final near-perfect form.
9. ALBUM Love on the Inside Sugarland
I wanted to resist this latest entry in country-pop, but Sugarland has a little something extra to offer in the way of authenticity. Brining together strong vocals with well composed and produced songs, you get the infectiousness of pop with the intelligence of good old fashioned country. The oft-played "Already Gone," shines as a perfect example of this happy mixture. And just listen to "It Happens," and watch yourself reach for the cowboy boots you promised you'd never wear.
10. MOVIE Killer's Kiss (1955)
This early Kubrick is certainly not his best work, but it does offer a peek into the origins of the visionary he was about to become. A simple film noir story, complete with down and out boxer and dance hall girl, takes on epic proportions through Kubrick's strong visual point of view. The climactic rooftop battle is stark and haunting, Times Square pulses and glitters in seediness. It's a true testament and example of the director's prowess as a still black and white photographer.
Bottom of the list:
Dirty Dancing: The Classic Story on Stage
What were people thinking when they put together this bastardized send up to the '80s Partick Swayze/Jennifer Grey masterpiece? It isn't Mamma Mia, it isn't Contact, it isn't Jersey Boys, it's not even Ring of Fire… it's just pure crap.